DealDash Car Wash Time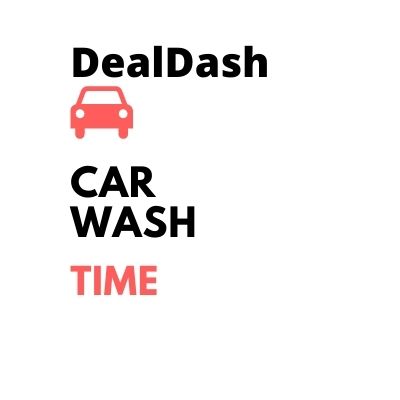 If you haven't done your first car wash of the season – it's time. Car wash time! DealDash has some helpful suggestions to get it done, quickly and easily.
Cars are a very important part of many people's lives. Without a car, it would be difficult for us to go to work, school or errands. Car maintenance is very important, and part of that car maintenance is to keep the car clean. Washing the car regularly can keep the car beautiful and fresh. These are some tips for when it's car wash time, from DealDash.
Car Wash Time! Pick a Spot
The very first thing that you need to do when it's car wash time is to choose where you will wash your car. Will you wash your car at home in the driveway? Will you take it to an automatic car wash? You could also take it to a self-wash station. Or, if you are feeling not quite up to the task, you can always take it to a full-service car wash. There are many places to choose from, and they are all fine choices. So before you do anything, you will need to decide where and how you will wash your car.
The Family Handyman site has an article with some excellent car washing tips. Check it out for some other suggestions.
Get Your Supplies Together
After you have decided where you will wash your car, the next step is to gather your supplies together. Depending on where and how you have chosen to wash your car, you will need different supplies to get started. Gathering your supplies is a very important step in washing a car. You will need a glass cleaner, bucket, sponge, and towel. You should keep these materials close to the car so that you can easily access them. It is also important to get car wax and place it next to the car. Then you need to fill the bucket with soap and water. After preparing all the supplies, washing the car will be much easier. If you find that you have forgotten any of your supplies, you can end up with a sub-par car washing experience. You might even consider making a checklist of all the supplies that you need before you get started, and check them off one by one.
DealDash Can Help With Car Wash Time
Finally, at last, once you have all the materials, you may begin washing the car. First, clean the inside. Clean the seats and floors with a handheld vacuum cleaner, and then remove the dust from the dashboard. Then, before using your car wash soap, rinse the car under running water. Make sure to remove all visible dirt to avoid scratching the car's finish. Next, lather with a small amount of soap and scrub the car in an up and down motion. Make sure to avoid washing the car in circular motions, as doing so may leave marks. Make sure to rinse the sponge regularly. Also, when the bucket water starts to look too turbid, replace the water in the bucket. After cleaning the car, it's time to rinse. Make sure to remove all soap, as this may leave streaks or even damage your paint.
If you are in need of any car supplies (or even a new car!) you should always check DealDash first. You will find all sorts of car supplies such as car air purifiers, mobile cell phone holders, and more on DealDash. You can also check the Home, Garden, and Tools category if you would like to browse the many options.
Thanks for Reading
Car wash time will be fun! It is important not to let your car air dry, as this will cause streaks and watermarks. Dry the car with a soft towel to avoid leaving marks. If you follow these tips, you will have the cleanest car in the neighborhood. Additionally, I hope that this article has given you some good tips to get your car clean, shiny, and ready to go.
If you need car and garage items with free shipping DealDash has them. Browse the auctions, and check out the auto items. You are sure to find something that you like. Have fun and happy bidding everyone!
This sponsored DealDash blog article was written by Dawn E, a mother of 3 who loves DealDash. Dawn was compensated for writing this article. Check out Dawn and her cats on Instagram! This blog is written by real DealDash customers. The opinions and advice shared here represent our customers' views and not those of the company.