DealDash Does Vacation Budgeting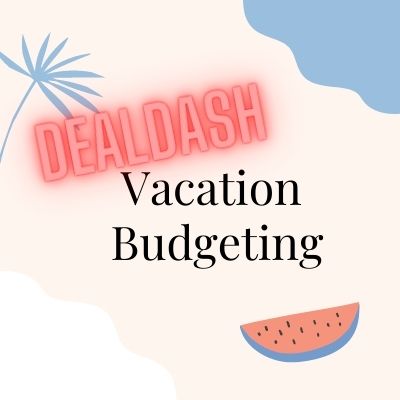 No one was able to take a vacation last year. However, this year, many people are choosing to take a trip. It's time to think about budgeting.
Like most people, you probably canceled your vacation that you had planned last summer. However, most places have loosened up travel restrictions for vacationers. If you have decided that you want to go on a trip this year, you should begin your budgeting now. This way, you will be prepared, money-wise, for your trip later this summer. Here are some suggestions from DealDash to get you started.
Vacation Budgeting Destination
Before you even begin to start your vacation budgeting, you need to decide where you want to go. Now, if you are on a tight budget, you will probably want to stick fairly close to home. Maybe you want to just take a long weekend, a short road trip, or a trip to visit family, or go to the beach. These options are all fairly inexpensive, and shouldn't take too much time and money. However, if you are looking for a longer and more involved trip, then you really need to buckle down and do some vacation budgeting. My family had to cancel our yearly trip to Utah last summer, and we are very much looking forward to being able to go this summer.
How to Use a Vacation Budgeting Spreadsheet
Next, a very important tool in your vacation budgeting aesenal is a spreadsheet. Yes, the humble spreadsheet will help you understand how well you are doing to save for your vacation, and how much further you have left to go. Making a vacation budgeting spreadsheet might sound difficult at first, but it is really quite simple. Just follow this handy checklist:
Decide how much you want to spend, total
Add in fixed expenses such as a rental car, flights, and hotel prices
Estimate for unfixed costs such as meals, gas, entry fees for various attractions, etc.
Estimate how much you have to spend each day – you probably won't be tracking dollar-by-dollar as your trip is happening.
After you have made your spreadsheet, you will want to read more about budgeting for your vacation. The site Dollar Sprout has some excellent suggestions on how to travel on a budget.
DealDash Can Help With Vacations
Finally, remember that you don't have to do this alone. DealDash has many items up for auction that can help you have a wonderful vacation this year. It has been a very rough year for everyone, it's important to try to relax and let the unimportant things go. If you are looking for some things to make your vacation go more smoothly, you should consider items like multi-region travel adaptors, power banks, and travel bags. These handy items will help you enjoy your vacation to the fullest. And when you get them on DealDash, you will always get free shipping, no matter if you WIN them, or BIN (Buy It Now) them. And believe me – there is nothing more frustrating than being on vacation, running out of phone battery, and having no way to charge it. Travel power banks are a lifesaver!
Thanks for Reading
Going on a family vacation this summer will be a memorable experience. These budgeting tips will help you make the right decision when planning a trip. If you follow these tips the process of finding the perfect budget getaway will be easy. Thanks so much for reading this article on budgeting for your vacation.
Planning a vacation on a budget? Check out DealDash for luggage, power banks, travel adaptors, and more. Visit now to see how much you can save. Have a great time and happy bidding everyone!
This sponsored DealDash blog article was written by Dawn E, a mother of 3 who loves DealDash. Dawn was compensated for writing this article. Check out Dawn and her cats on Instagram! This blog is written by real DealDash customers. The opinions and advice shared here represent our customers' views and not those of the company.