DealDash Celebrates 4th of July 2023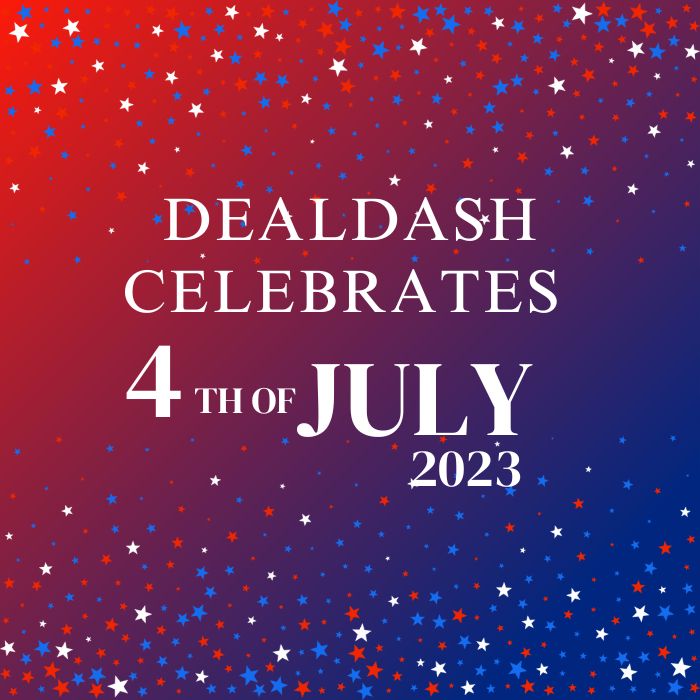 The 4th of July will be here in just a couple of weeks. Have you made your plans yet? Let's explore this awesome holiday!
The 4th of July is a day that Americans hold dear to their hearts. It is a day that commemorates the birth of American independence and the signing of the Declaration of Independence in 1776. Celebrating the 4th of July is a festive occasion that brings families, friends, and communities together in an atmosphere of camaraderie and patriotism. Can you imagine what your perfect 4th of July day would entail? Read this new DealDash article to get some ideas.
DealDash Celebrates: Enjoy the Festivities
What better way to kick off the celebration than with a parade? People dress up in red, white, and blue clothing and accessories and line up to watch the marching bands, floats, and civic groups passing by. Attending a parade is a great way to get into the spirit of the holiday and show your pride in our great country.
Once the parade is over, it is time to light up the sky with fireworks. Fireworks are a traditional part of the 4th of July, and it is a sight to behold! People gather in parks or fields and ooh and aah as the vibrant colors fill the night sky. It's an exciting moment and a great experience to share with family and friends.
If you haven't been to a fireworks display in a while, you might be surprised at all of the choices you have. To find all of the fireworks displays near you, check out your local Yelp page and sort by location.
DealDash Celebrates with Food
Of course, no 4th of July celebration would be complete without the food! Grilling out is a popular summer pastime and the 4th of July is no exception. Burgers, hotdogs, and all the fixin's make up the perfect spread for your summer barbecue. And you can't forget the sweet treats like ice cream, watermelon, and pies!
Reflect and Unite
As the day winds down, it's time to reflect on all that our country has achieved and all that it will continue to do. The 4th of July offers us an opportunity to unite with our fellow Americans and celebrate the freedoms that we enjoy. So, raise a glass and give thanks for the hard-earned independence that is the foundation of this great nation.
DealDash Has 4th of July Supplies
No matter how you choose to celebrate the 4th of July this year, DealDash is here for all of your festivity needs. No matter if you need a new grill to cook up some burgers and hot dogs, or a patio umbrella to keep the sun off of your guests – DealDash has it! Find these items and many more summer and party items up for bid. You will find high-quality items, and get to join in the fun when you bid on DealDash.
Thanks for Reading
As you celebrate the 4th of July, remember to enjoy the festivities with safety and respect. Have fun and take the time to appreciate the history and tradition that makes this holiday so special. Be sure to check out DealDash if you need any supplies to host a 4th of July celebration BBQ at your home. Remember to be safe on this fun family holiday. Thanks so much for reading, and happy bidding everyone!
This sponsored DealDash blog article was written by Dawn E, a mother of 3 who loves DealDash. Dawn was compensated for writing this article. Check out Dawn and her cats on Instagram! This blog is written by real DealDash customers. The opinions and advice shared here represent our customers' views and not those of the company.