DealDash Crafts: Customize Your T-Shirt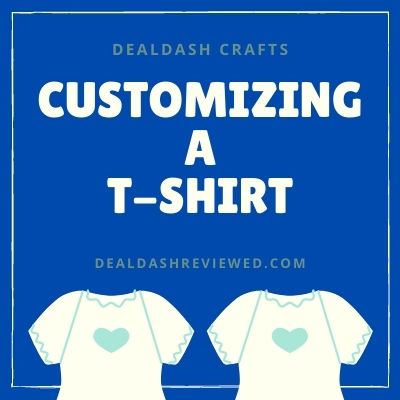 Want to customize your t-shirt? DealDash tells you how to make it fast and fun! This is a great project to do with the whole family.
Do you like arts and crafts, but aren't quite sure where to start? Here's great news – customizing your t-shirt is an awesome project that can be done within a couple of hours and by all skill levels. Customizing your t-shirt is a great way to turn a blank t-shirt into something that is unique to your tastes. Here are some suggestions from DealDash on how to get started.
Customize Your T-Shirt – Choose a Tee
Firstly, the most important part of this craft project is the shirt, of course. You can pick any old shirt that you already have in your closet. Depending on the way you plan on making your shirt (painting, using vinyl, etc.) you can choose a light or a dark shirt – or any color in-between! Personally, I am not a big fan of white shirts, so I usually choose a different color such as gray for a lighter color, or purple for a darker color.
The shirt that you use can be new or old – but it needs to be washed – sure to wash it if you are buying a new shirt. This will remove any starch or stiffener that was used when it was manufactured. The starch can prevent the vinyl or paint from sticking properly.
Additionally, this article is focusing on t-shirts, however, these ideas can apply to many other items such as canvas tote bags. If you would like to customize some other items but are having trouble thinking of some ideas, the blog Simply Made Fun has some great ideas for you. Try any of these 15 Beginner Vinyl Crafts to get started.
How Will You Customize?!
Next, there are many ways that you can customize your t-shirt. Here are just a few suggestions to get your brain thinking!
Iron-on vinyl – You can use a cutting machine like the Cricut or Brother. However, you don't need to buy a fancy machine to cut vinyl. You can cut bigger, bulky shapes with scissors or smaller more intricate shapes with a craft knife such as an Exacto.
Patches – Most sewing and craft stores as well as some big box stores sell pre-made patches. Some of these patches have fun designs such as flowers, and others just have letters to spell out words.
Paint – You can use fabric paints with a stencil, or squeezable puffy paint.
Markers meant for fabric – These are sometimes marketed as "laundry markers" because they were originally meant to write names in clothing and won't wash out in the laundry.
Some Quick Tips:
Each time you wash your shirt, be sure to turn it inside out first.
You will want to use the gentle cycle.
If you have access to "cold water" detergent, you should use that. Personally, I wash all of my clothing using Cold Water Tide. It's better for your clothing and can help prevent fading – as well as saving a little money on energy costs!
After washing you should either lay it flat to dry or hang it up to dry.
If you happen to ruin your shirt in the wash – don't be too sad – it's just a chance to be able to make a new one!
Get Hobby Items From DealDash
Finally, if you are big into hobbies – be it crafting and creating or gardening, gaming, or sports – DealDash has stuff for you! Find crafty items like sewing machines, and also gaming (board and video) for all of your hobby needs. You can find hobby items in a few different categories. You can check in Hobbies, Toys, Outdoors, and Games as well as Electronics and Computers – depending on your hobby of choice. No matter what your hobby, DealDash can help you get new items to fuel your fun!
Thanks for Reading
Thank you so much for reading this new DealDash article on customizing your t-shirt. Don't forget to check back here often for new articles, we do two per week. If you have any requests for specific articles, please feel free to leave a comment below.
If you need craft tools, DealDash has art and supplies! You will find everything you need for your favorite hobby. Visit the auctions now to see how much you can save. Have a great day, and happy bidding everyone!
This sponsored DealDash blog article was written by Dawn E, a mother of 3 who loves DealDash. Dawn was compensated for writing this article. Check out Dawn and her cats on Instagram! This blog is written by real DealDash customers. The opinions and advice shared here represent our customers' views and not those of the company.