DealDash's Exciting Valentine's Day Date Ideas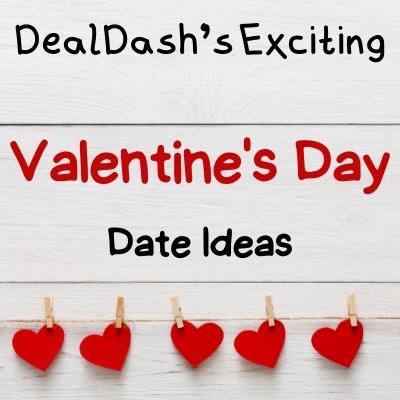 It's February, and love is in the air. Do you have any idea what you are doing on Valentine's Day?
Looking for some fun and exciting things to do on Valentine's Day? Look no further! DealDash has got you covered. We have put together a list of our favorite date ideas that are sure to make your day special. Whether you are looking for something romantic or just want to have some fun, we have some suggestions. So read on and start planning your perfect Valentine's Day date!
Outdoor Date Ideas
Let's begin with Valentine's Day date ideas that can be done outdoors. You can enjoy the fresh air and some sunshine while spending time with your loved one. And remember, your loved one doesn't have to be a boy/girlfriend or husband/wife. You can spend Valentine's Day with any loved one, from your child to your grandma to a best friend.
Go For A Hike or Walk – If you live in a place where it is still cold outside, then we suggest going for a nice stroll around the mall
Take a romantic stroll through a beautiful park or garden – Be sure to bundle up if you're chilly
Have a picnic in your backyard or at a nearby park – bring hot chocolate or soup in a thermos
Attend a concert, play, or other live performance
Indoor Date Ideas
Next, let's tackle some indoor date ideas for Valentine's Day. If it's cold outside or you just want to stay warm and cozy, here are some ideas for you.
Cook a delicious meal together – Have fun cooking up something new that neither of you has tried before like sushi or fondue
Baking – You could also try baking cookies with heart-shaped cookie cutters or brownies with pink and red sprinkles
Play a game together – Board games, video games, card games, it doesn't matter as long as you're spending time together
Watch a movie – Pop some popcorn, get in your coziest clothes and spend the day watching your favorite romantic comedy
If you would like to cook a special meal on Valentine's Day, you should find a recipe now. The site Ahead of Thyme has an informative article with 30 recipe suggestions for a delicious Valentine's Day.
DealDash Has Items to Wear on Dates
Finally, with many of these date ideas, you might want to think about what you will wear. DealDash has some great items that can help you look your best for Valentine's Day dates. These include:
Watches – You'll always be on time with a beautiful new watch from DealDash
Jewelry – From rings and necklaces to earrings and bracelets, you will discover a wide variety of jewelry to choose from
Clothing – From dresses and skirts to pants and blouses, you'll find the perfect outfit for your date on DealDash
Thanks for Reading
So there you have it! Our favorite Valentine's Day date ideas. We hope that you find something that will make your day special such as a beautiful ring, a necklace, or even a present for your date. Wouldn't your husband or wife be thrilled with a new watch?
Thanks so much for reading the newest DealDash article. Don't forget to check back often for new articles as well as great deals on Valentine's Day items. DealDash has it all, and we're here to help you save! Have a great day everyone, and happy bidding!
This sponsored DealDash blog article was written by Dawn E, a mother of 3 who loves DealDash. Dawn was compensated for writing this article. Check out Dawn and her cats on Instagram! This blog is written by real DealDash customers. The opinions and advice shared here represent our customers' views and not those of the company.