Kid's Valentine's Day Crafts – DealDash Style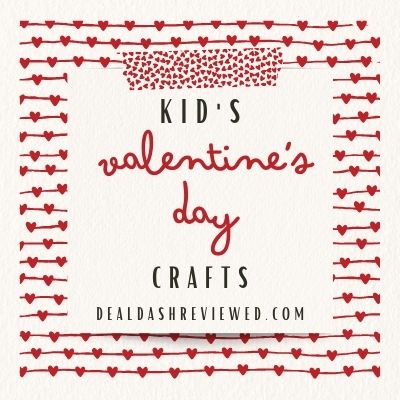 Valentine's Day is a special day for kids and adults alike. It's a day to celebrate love and friendship. What better way to celebrate than by making some fun crafts together? In this blog post, we will discuss some of the best kid's Valentine's Day crafts that you can make using items from DealDash! Read on for some excellent crafty fun for your family.
Kid's Valentine's Day Cards
For starters, one great Valentine's Day craft for kids is to make a card. You can use any type of paper you like, and there are lots of different ways to decorate it. One easy way to make a card is to fold a piece of paper in half, then
draw or cut out a heart shape on the front. Alternatively, you could cut out some letters to spell "Happy Valentine's Day" or another phrase. Once you have your design ready, it's time to get creative with the decorations! You can use stickers, crayons, markers, or any other materials that you have on hand. Another fun idea is to create a collage on your card using pictures from old magazines or newspapers – or even photos that you print out. Whatever you decide to do, be sure to write a heartfelt message inside the card for your loved one.
Kid's Valentine's Day Treat Bags
Next up, another great craft idea for kids is to make Valentine's Day treat bags. These are really easy to put together and can be personalized however you like. You'll need some paper bags (like lunch bags), construction paper or felt in different colors, stickers, crayons, scissors, and glue.
To make the bag, cut a piece of construction paper or felt that is slightly larger than the bag itself. Then fold it in half so that it covers the entire bag. Glue it in place, then let it dry. Once the glue has dried, you can decorate the front of the bags however you like. You can use stickers, crayons, or markers to make a fun design on the front of your bag!
Fill these bags with Valentine-themed treats for friends and family members – just don't forget to add some candy too! Candy is always a great addition if you want someone's heart-melting when they open up their sweet creation from your little one.
If you're not sure what to put into these goody bags, Care.com has an article to help. Check it out and discover some ideas.
Presents for Your Little One on DealDash
Lastly, your kids are working so hard on presents for everyone else – it's time to do something for them! DealDash has plenty of items that your little one would love as a Valentine's Day gift. You will find gifts in all price ranges; from expensive like a tablet, to cheaper like Matchbox cars or a Barbie.
To give you an idea of some of the kid's items on DealDash, you should begin with the Hobbies, Toys, Outdoors, and Games category. Do your kids love Lego?? Mine do, from the 6-year-old all the way up to the teenager! You will find many Lego sets on DealDash for both kids and teens. If your kids (or grandkids) are small, why not get them a soft, cuddly stuffed animal instead? No matter how old they are, they will always be your baby. So baby them with a Valentine's Day gift from DealDash.
Thanks for Reading
There are so many ways to celebrate Valentine's Day with your kids! Making crafts and doing activities together will give them a perfect opportunity for some quality time that they won't want any other day of the year. I hope this article gives you great ideas on what projects or games could be right up their alley –
If you need kid's items with free shipping DealDash has them! You will find Valentine's Day presents like toys, board games, video games, and more. Check out the stuffed animals and games now. Have fun on DealDash, and happy bidding everyone!
This sponsored DealDash blog article was written by Dawn E, a mother of 3 who loves DealDash. Dawn was compensated for writing this article. Check out Dawn and her cats on Instagram! This blog is written by real DealDash customers. The opinions and advice shared here represent our customers' views and not those of the company.