DealDash Fall Activities for the Whole Family in 2022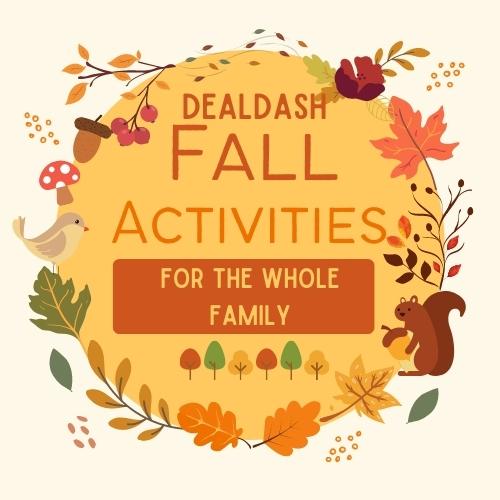 It's finally fall, the best season of all! Enjoy some wonderful activities with your family in the cool weather.
The leaves are changing color, the air is getting cooler, and pumpkin-flavored everything is everywhere. Yes, autumn has officially arrived! This is a great time of year to get out and enjoy all that nature has to offer. Here are some fun ideas for things to do with your family in the fall. Read on for some fun ideas from DealDash.
Fall Activities – Nature Hike
One great fall activity is going on a nature hike. The cool weather is perfect for hiking, and you can take in all the beauty of nature this time of year. The changing colors of the leaves and the crunchy leaves underfoot make it the best
time of the year for a family hike. Make sure to dress in layers, though, as the temperature can vary throughout the day. Also, don't forget your water! Even though the temperatures are getting cooler, you can still get dehydrated after a day of hiking.
Fall Activities – Apple Picking
Another fun activity for families is to go apple picking. This is a great way to get some fresh air and exercise, and you can also get some delicious apples to take home with you. Just be sure to watch out for bees! While you're at the orchard, be sure to check for other fruits offered such as blueberries, strawberries, and even pumpkins!
Fall Activities – Make Pumpkin Pie
If you were able to snag some pumpkins when you went apple picking, this next fall activity is for you. It's time to make a homemade pumpkin pie! This is a great activity for the whole family, and it's also a delicious way to enjoy all the flavors of fall.
Need a great recipe for pumpkin pie? The site Live Well, Bake Often has an excellent recipe for you to try. Check it out and enjoy a delicious slice of fall flavor.
DealDash Has Your Fall Favorites
No matter what you're looking for this autumn, DealDash has it. From outdoor gear to baking supplies, we have everything you need to make the most of the season. Come check out the hiking backpacks, tents, grills, and cooking tools up for bid.
Thanks for Reading
Fall is a beautiful time of year full of so much family fun. Get out there and enjoy all that fall has to offer! These are just a few ideas from DealDash, but there are endless possibilities for fun fall activities. So get out there and make some memories with your family this season. Thanks for reading. Have a great day, and happy bidding everyone!
This sponsored DealDash blog article was written by Dawn E, a mother of 3 who loves DealDash. Dawn was compensated for writing this article. Check out Dawn and her cats on Instagram! This blog is written by real DealDash customers. The opinions and advice shared here represent our customers' views and not those of the company.