DealDash Fall Beauty Tips: Skincare in Autumn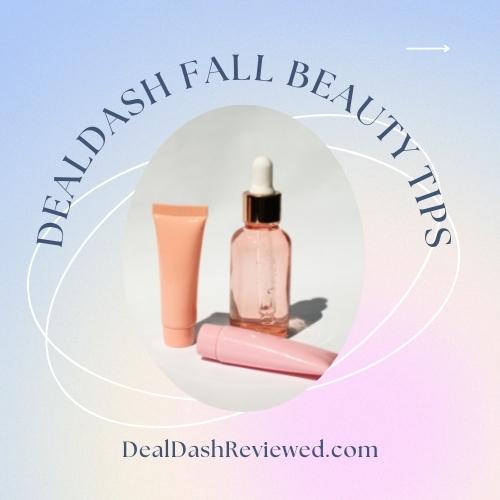 Fall will be here soon – my absolute favorite time of year! With cooling temperatures come different skincare needs.
The leaves are changing color, the days are getting shorter, and the weather is getting cooler. It's definitely fall! With the change in season comes a change in skincare needs. Your skin may need different products or treatments to stay healthy and looking its best. In this blog post, we will discuss some tips for taking care of your skin in the autumn. Keep reading to learn more, from DealDash.
Fall Beauty #1 – Hydration
One important tip for keeping your skin healthy in the fall is to keep it hydrated. The cooler weather can cause your skin to become dry and irritated. Make sure to drink plenty of water, and use a good moisturizer to keep your skin from becoming too dry. You may also want to consider using a humidifier in your home to keep the air from becoming too dry.
Fall Beauty Tip #2 – Exfoliation
Another tip for taking care of your skin in the fall is to exfoliate regularly. Exfoliating helps to remove dead skin cells that can build up and cause your skin to look dull. You can use a physical exfoliator, like a scrub, or a chemical exfoliator, like an AHA or BHA serum. Just make sure not to overdo it, as too much exfoliation can actually damage your skin.
Fall Beauty Tip #3 – SPF
Finally, don't forget to protect your skin from the sun this autumn! The sun's rays are just as harmful in the fall as they are in the summer. Make sure to apply sunscreen every day, even if it's cloudy outside. If you'll be spending time outdoors, make sure to reapply sunscreen every few hours.
SPF is one of the most important parts of skincare in every season (yes, even winter!). To get the best and most up-to-date information on SPF, visit the FDA's website.
Get Beauty Supplies and Tools from DealDash
Now that you know some tips for taking care of your skin in the fall, you're probably wondering where to get all of the products and tools you need. Look no further than DealDash! DealDash has everything you need to get your skin ready for the autumn season. From skincare products to makeup, you can find it all on DealDash. Don't wait, head on over to DealDash now and start shopping for all of your fall beauty needs such as the overnight skin regeneration serum.
Thanks for Reading
We hope you found these tips for taking care of your skin in the autumn helpful! Use these suggestions to keep your skin at it's best in every season. And don't forget, on DealDash you can find all of the beauty products that you need to help you look and feel your best this season. Have a great day, and happy bidding everyone!
This sponsored DealDash blog article was written by Dawn E, a mother of 3 who loves DealDash. Dawn was compensated for writing this article. Check out Dawn and her cats on Instagram! This blog is written by real DealDash customers. The opinions and advice shared here represent our customers' views and not those of the company.