DealDash Helps Parents and Kids Get Organized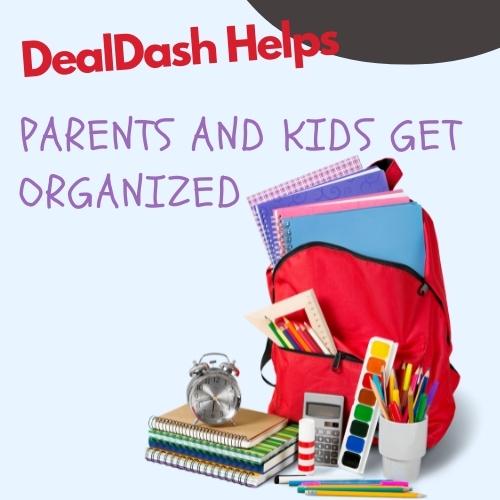 Now that school has gotten started in many places, it's time to get all of those books and papers organized. Need some help?
For many kids and parents, the first few weeks of school can be overwhelming. There is so much information to process and remember, and it can be tough to get everything organized. Between all of the paperwork and new school supplies, it's easy to feel frustrated and overwhelmed. However, with a little bit of organization and planning, you can make the transition back to school a lot smoother. Here are a few tips from DealDash to help you get started.
Get Organized
First and foremost, one of the best ways to get ready for the school year is to get organized. This means taking a few minutes each day to sort through your school supplies and books, and setting up a study area or desk where you can work on homework.
Additionally, you should create a weekly schedule for yourself, so you know what days you have homework and when your tests are. Here are some more quick tips to help:
– Make a list of all the things you need to do at the beginning of the year and schedule time for each task.
– Get your child's school supplies organized early, so there's less to worry about later on.
– Read over all of the school paperwork as soon as you get it, and try to organize it in a way that makes sense to you.
– Make a calendar or agenda and write down all of your child's upcoming tests, projects, and due dates. This will help ensure that you're not forgetting anything important.
With a little bit of effort, you can make the start of the school year a lot less stressful. By taking things one step at a time and staying organized, you'll be able to navigate through this busy time without any problems.
Get Organized By Making a Plan
Next, another essential part of getting ready for school is making a study plan. This is extremely important for older kids in high school and/or college. This includes figuring out what classes need to be taken and what subjects need to be studied. Additionally, it's also important to make a study routine, so the student knows when and how long each subject should take each day. Also, if the student lives at home, this can also be important for the rest of the family, so any family meals and activities can be planned around the study schedule.
Get Support
Finally, if you're feeling overwhelmed, don't be afraid to ask for help. Other parents, your kid's teachers, or friends that have older kids can all be great resources when it comes to getting ready for school. They can help you make a plan, get organized, and stay on track throughout the year. If you're having trouble finding support, you're not alone! The site Empowering Parents has some great articles and resources you should check out.
DealDash Has Helpful Organization Items
Most everyone would agree – it's much easier to get (and stay) organized when you have the right tools for the job. DealDash can help you with any organizational supplies you need. You will find desks for students and adults, shelving, and items for your home office. Additionally, you will find things to make your favorite student's study space cozy and comfy.
Thanks for Reading
Getting ready for the school year doesn't have to be stressful. With a little bit of planning and organization, you can make sure that everything goes smoothly. So use these tips to help you get ready for the school year. DealDash hopes that these tips help you get your family prepared for a great year of learning. Visit now to check out the amazing deals on school supplies, desks, and other organizational supplies. Have a great day, and happy bidding everyone!
This sponsored DealDash blog article was written by Dawn E, a mother of 3 who loves DealDash. Dawn was compensated for writing this article. Check out Dawn and her cats on Instagram! This blog is written by real DealDash customers. The opinions and advice shared here represent our customers' views and not those of the company.