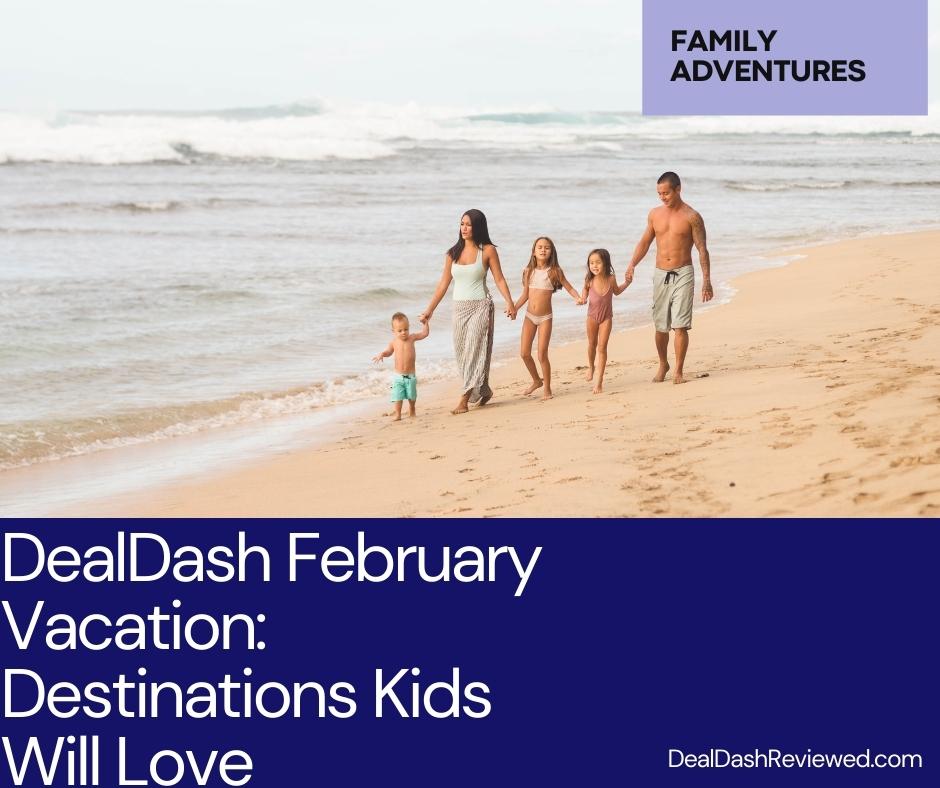 Before we head into winter, let's give ourselves something to look forward to. February vacation is fun for kids and adults alike.
When we are in the dreary days of winter, a February vacation may be the perfect way to break up the monotony and give your family to some much-needed excitement. Choosing a destination that's not only kid-friendly but also filled with wonder and adventure is key to making your holiday unforgettable. Here are some top destinations that will captivate your kids and leave them with lasting memories. Read on for some excellent location suggestions from DealDash.
1. Disney World, Orlando, Florida
No family vacation list is complete without mentioning the mouse. Disney World never fails to enchant children and adults alike. February brings milder temperatures and fewer crowds, making it an ideal time to explore the magical kingdoms. Dive into a world where fairytales come to life, engage in thrilling rides, and witness spectacular parades and shows that ignite the imagination.
2. San Diego, California
San Diego is a paradise for families seeking a combination of nature and excitement. Visit the renowned San Diego Zoo, explore the mysteries of the deep sea at the Birch Aquarium, or relish the sun at some of California's most beautiful beaches. San Diego's pleasant February weather complements its vibrant offerings, ensuring a delightful vacation. San Diego is one of the best places that I have ever gone on my February vacation. It was beautiful weather, there were lots of activities, and many delicious restaurants to enjoy.
3. Washington, D.C.
For families that enjoy blending learning with fun, Washington, D.C., is a treasure trove of museums, historical landmarks, and cultural experiences. Visit the National Air and Space Museum, explore the Natural History Museum, or take a stroll around the National Mall to absorb the city's historical significance. Washington, D.C. is chilly this time of year, so be sure to pack your warmest coat.
4. Whistler, British Columbia, Canada
If your family is drawn to snowy landscapes and winter sports, Whistler is a dream destination. Kids will love skiing, snowboarding, and exploring the stunning snow-covered mountains. Various programs and lessons make it accessible for children and beginners to engage in and enjoy winter sports. In addition to the sporty activities, you will also find amazing views on the Peek 2 Peek gondola ride, and lots of shopping and restaurant choices in Whistler's Village.
5. Costa Rica
Embark on an eco-adventure in Costa Rica's mesmerizing landscapes. From exploring lush rainforests and volcanic terrains to engaging in water sports on its beautiful beaches, Costa Rica offers a mix of adventures that kids will adore. Younger kids will enjoy the butterfly garden and zoo, and older kids will love zip-lining and white water rafting. Kids of all ages will love playing on the sand at the beach and chocolate tours.
DealDash Has Travel Supplies
No matter where you choose to go on February vacation, you will need travel supplies. When it comes time to get packed, you will be happy that you thought ahead and bid on auctions on DealDash. Just a few examples of travel supplies you will find are suitcases of assorted sizes, a travel flask, toiletry bags, and travel first aid kits.
Thanks for Reading
In conclusion, February vacation is an excellent opportunity to escape the ordinary and immerse your family in extraordinary experiences. Each destination offers a unique blend of attractions, ensuring that every member of the family finds something they love. Select a destination that resonates with your family's interests and embark on a journey filled with joy and wonder. Prepare for your vacation by visiting DealDash for luggage, first aid kids, and toiletry bags. Thanks so much for reading, and happy bidding everyone!
This sponsored DealDash blog article was written by Dawn E, a mother of 3 who loves DealDash. Dawn was compensated for writing this article. Check out Dawn and her cats on Instagram! This blog is written by real DealDash customers. The opinions and advice shared here represent our customers' views and not those of the company.