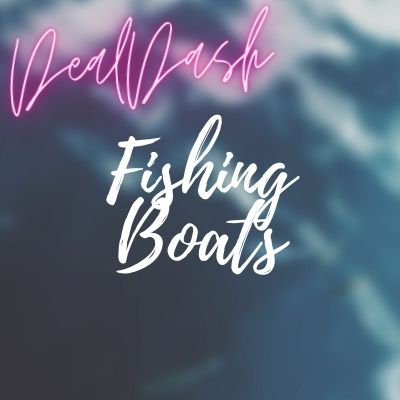 Getting out on the water in your own fishing boat is an amazing feeling. If you've ever thought about getting a fishing boat, you need to read this first.
Fishing is an activity that many people enjoy, from kids to seniors. Whether you are a professional fisherman or just like to do it on the weekends, having the right fishing boat will make all the difference in the world. In this blog post, we will discuss how to choose the best fishing boat for your needs! Read on for some helpful information from DealDash.
Why Get a Fishing Boat?
For starters, there are many different reasons to buy a fishing boat. For example, some people like to fish on the weekends or during their free time. However, others make it into an entire career. This article is directed towards the
casual fisher. However, many other fishermen need specific types of boats depending on what they're after. They might need a boat for big game or freshwater lake fishing. It also depends on where they plan on fishing, and also how often they plan on fishing (e.g., every weekend vs once a month). However, even if you aren't an avid fisherman, you can still benefit from having the right fishing boat! For example, you might only fish once in a while, but you might have grandkids that come over every weekend and want to ride in the boat with you. Taking the grandkids out for a boat ride on the lake is a great bonding experience, even if you don't catch any fish!
What Size Fishing Boat is Right for You?
Next, there are many different sizes of fishing boats that you can choose from. One common mistake that people make is buying a boat too big for their needs, which wastes money and space. Additionally, it might not even be the right type of boat. For example, if you only plan on fishing once every few months with your spouse or kids, it doesn't make sense to buy a big fishing boat. On the other hand, if you are making money from taking people out on tours or buying and reselling fish, it makes more sense to invest in a bigger fishing boat that can hold more gear, is faster when traveling long distances, has better storage space for your business supplies, etc. If you plan on going out into the ocean to fish for sharks or tuna, then it makes sense to buy a boat designed specifically for big game fish.
On the other hand, if you're looking at freshwater fishing in lakes and rivers around your local area, then you might consider buying the smallest fishing boat that you can find. This is especially true if you plan on mainly going out into the water by yourself (e.g., for peace and quiet) rather than with your family members. Many people buy larger boats that they can use to fish all year round, but this isn't always the best option for everyone. If you are still puzzled about what size of boat you need, Scout Boats has a handy guide to different types and sizes of fishing boats.
DealDash Has Added Fishing Boats
Finally, the best news of the day is that DealDash has added fishing boats to their auction roster. If you have been wavering back and forth, wondering if it's the right time to get a fishing boat, this news can help you make your decision. The Tracker Guide V-16 Laker DLX T boat is the perfect choice for a novice fisherman who would like to get out on the water. The Tracker Guide is a 16′ aluminum fishing boat that seats up to 4 people. Additionally, this boat comes with a trailer to make it easy to splash down in the water, ASAP. If you aren't excited about a fishing boat, how about a speed boat, instead? DealDash has those, too!
Thanks for Reading
Now is the perfect time to think about and plan for your ideal boat. These are simply a few different things to think about when you are considering getting your own boat. Thanks for reading the article, I hope that you found it helpful.
DealDash has boats and fishing equipment up for bid. You will find auctions for boats, gear, and more. Visit now to see how much you can save. Have a great time on DealDash and happy bidding everyone!

This sponsored DealDash blog article was written by Dawn E, a mother of 3 who loves DealDash. Dawn was compensated for writing this article. Check out Dawn and her cats on Instagram! This blog is written by real DealDash customers. The opinions and advice shared here represent our customers' views and not those of the company.