DealDash Garage & Tool Organization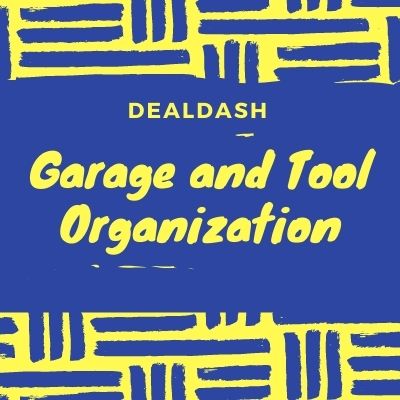 Wouldn't it be nice to have a garage that was organized and neat? Well, we can help you out with that. Just follow these few easy steps and your garage will be as good as new!
Do you have a messy, disorganized garage? Is your garage an eyesore in the neighborhood? The good news is that there are many easy ways to make your garage nicer! One way is by organizing the tools. Not only will this make it easier for you to find what tool you need when you need it, but other people will see how nice and organized your space is too. Use these suggestions from DealDash, and your garage will look great, ASAP.
Easy Tool Organization
Just to start, this is a very easy way to make the garage nicer and it takes minimal effort. All you will need are some
boxes or containers of varying sizes, labels for all the individual tools, and space in your garage where these can be stored. Label each container with what tool should go inside so that when an item comes out to use it you will know exactly where you have stored all of your items.
Organizing your tools will not only make it easier for you to find what tool you need when you need it, but other people will see how nice and organized your space is too. This can help the garage's curb appeal and give those who enter more of a desire to take care of this area because they are impressed by the organization. When you have all of your tools organized nicely, it makes you want to take on projects, because you know that you won't have trouble finding exactly what you need to get the job done.
Quick Tips for Tool Organization
Start an inventory of your tools and accessories. Once you have this list, make a plan for where to store each one, such as in bins or boxes.
This way when looking through storage or sorting out which ones are used more often and less often, you will know right away if something needs a new label because then you can take care of it right away.
Label these bins or boxes so that they are easy to find when needed. This idea can be done by using markers or masking tape with the item name written on it in large lettering making sure you label all of them. If all of them aren't labeled, you will still be searching for what you need. Hang your tools on hooks or in a metal rack. This way, you can easily choose what tool you need when needed.
Make storage space for out-of-season items to make the garage less cluttered and more organized.
Take the time to organize every so often by sorting through things that are no longer used very often. Also, check for any duplicates that can be donated or thrown away.
Put away the things you use more often in front and less often items are towards the back. Make a list of all your tools to keep track of them. This way, if one is missing or used up, you will know what else to purchase for future projects. It also makes it easy when looking through storage to see if you have what you need for the project, or if you need to go shopping for an item you don't already have.
If you're looking for some extra unique tool organization ideas, The Spruce has a great article that you can read to get some ideas!
Get Garage and Tool Storage on DealDash
Finally, the first place you should look to get shelves and organization items is DealDash! If you are looking for a heavy duty tool seat, a magnetic tool tray, or bins, you will find them on DealDash. Also, there are assorted shelves and other storage options to choose from. Additionally, you can also check out the Home, Garden, and Tools category for more choices.
Thanks for Reading
Now is the perfect time to clean and organize every room in your house, including that neglected garage. These are simply a few ways you can get started with garage and tool organization today. Thanks for reading the article, I hope that you found it helpful.
DealDash has tool organization and storage equipment for the garage. You will find auctions for tool carts, bins, shelves, and more. Visit now to see how much you can save. Have a great time on DealDash and happy bidding everyone!
This sponsored DealDash blog article was written by Dawn E, a mother of 3 who loves DealDash. Dawn was compensated for writing this article. Check out Dawn and her cats on Instagram! This blog is written by real DealDash customers. The opinions and advice shared here represent our customers' views and not those of the company.