DealDash Kids: Almost Time for Back to School!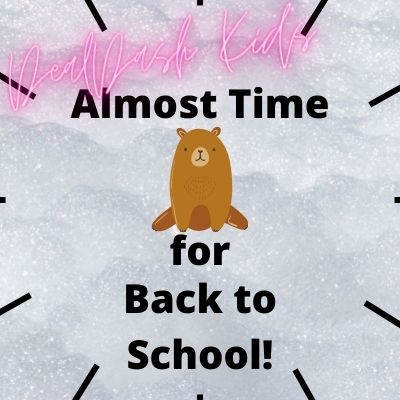 I don't know about you, but I am excited about my kids going back to school. Now is the time to get them organized and ready for school in September.
Parents, moms, and students are all eagerly waiting for the back-to-school season. It's a time when everyone feels more organized and ready to start anew. This is also the perfect time to take stock of what your child needs for this next academic year. This can be things such as supplies like pencils and notebooks, to clothes they need for their new class. And if you're not sure where to get started in getting them prepared, DealDash can help!
Back to School Organization: Backpack
Just for starters, a good way to get organized for the new school year is by tackling your child's backpack. This will help them be more productive and stay on top of their work throughout the day. One thing you can do when organizing
a backpack is to make sure it has multiple compartments. This is so that they can have all their supplies with them while also keeping it well-organized inside. You'll want one compartment for items like pencils, notebooks, pens, flashcards, etc., and another section or pocket where things like water bottles or lunch bags. Another great trick is to pack book covers (or any other material) in this extra pocket instead of books because then if anything spills onto these materials they are protected from damage!
Workspace Organization for Kids and Teens
Next, an additional way to begin getting your child ready for the upcoming school year is to be sure that they have a workspace at home. It's best to have the space cleared of any clutter or other items so that they can have plenty of room for work. If it is in an already occupied area, you should consider moving some furniture around to make space for them. This will allow them to have their very own desk.
Also, another great way to get organized is to have a designated spot for your child's supplies. For example, if they are in elementary school and need pencils or pens then you should designate an area of their desk where these items will be stored together. It also helps to label the container so that it is easy for them to find what they're looking for quickly!
If you would love to get your child's desk and/or workspace updated before school starts, I have good news for you. I have created a Pinterest board for you! Check it out for some excellent fun projects to spruce up your kid's desk.
Back to School With DealDash
Finally, if you need a little help getting organized for back to school, DealDash can help with that! Getting a new backpack for the first day of school is fun, and something that my kids look forward to each year. Instead of having to go shopping in person, why not let your kids check out the selection of backpacks on DealDash? Once they find one they like, you can bid on it – remember, bidders on DealDash must be 18+.
Thanks for Reading
With kids going back to school in a few weeks, it's time for a little bit of organization. Whether they are in grade three or twelve, we have some suggestions that will help you get your children organized and ready for class. Have fun this year! What grade are your kids going into? Let us know below, and thanks for reading!
It's time to get your kids organized for back to school. If you need some new school supplies, a backpack, or a desk, DealDash can help. You will find the school and office supplies that you need up for bid. Check them out! Have a great day and happy bidding everyone.
This sponsored DealDash blog article was written by Dawn E, a mother of 3 who loves DealDash. Dawn was compensated for writing this article. Check out Dawn and her cats on Instagram! This blog is written by real DealDash customers. The opinions and advice shared here represent our customers' views and not those of the company.