DealDash Last-Minute Halloween 2023 Costume Ideas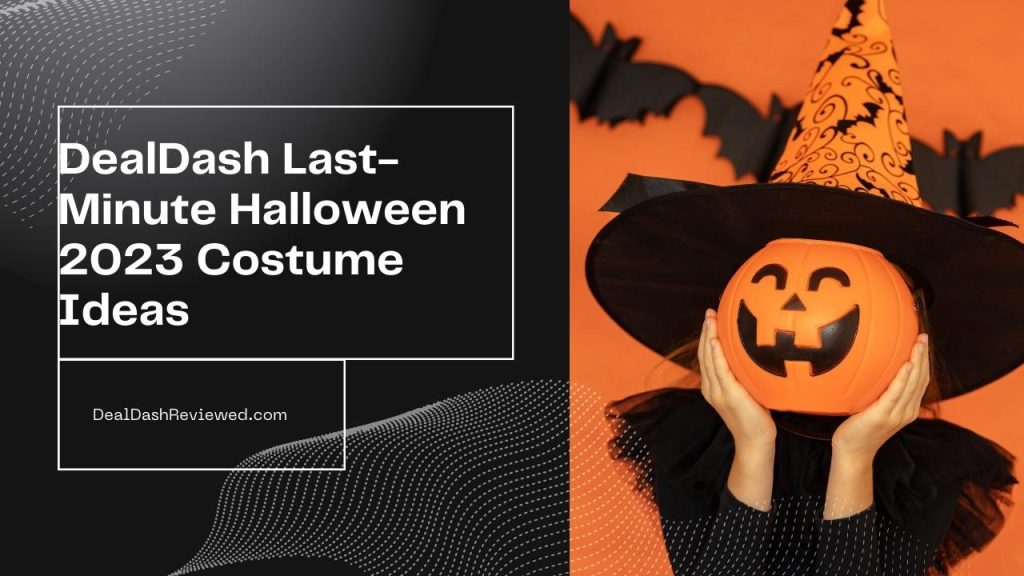 Halloween is clearly one of the best things about October. Are you ready? If not, it's time to figure out a costume.
Halloween is right around the corner, and the spooky vibes are everywhere. But wait a minute, caught up in the whirlwind of life, did you forget to pick out a costume? Not a problem, we got this! Let's dive into the enchanted world of last-minute Halloween costumes that are not just easy but will make you the talk of the ghost town! Read this article for some interesting last-minute costume ideas from DealDash.
Costume Ideas for Single Boys and Ghouls
80's Aerobics Instructor – Get physical with an 80s aerobics instructor outfit. Channel your inner Jane Fonda or Richard Simmons with vibrant leggings paired with an off-the-shoulder top encapsulate the energetic 80s vibe. Accessorize with a sweatband on your forehead, and don't be shy to add some flamboyant makeup to highlight the lively aerobics spirit.
Detective – Solve the mysteries of the night as a detective. A trench coat is key for this look, paired with any regular outfit underneath. Carrying a magnifying glass adds an extra touch of authenticity, and a hat can further enhance your investigative appearance.
Enchanted Garden – Become a walking garden. Attach artificial flowers, leaves, or vines to your outfit. You could also make a flower crown for added enchantment. It's a breath of fresh air amidst the usual spooky costumes.
Costume Ideas for Pairs (or More) of Spooky Folks
Salt and Pepper – If you have a partner in crime, consider the salt and pepper duo. Dress in all black or all white. Make a "Salt" or "Pepper" label from paper or felt and attach it to your outfit. Top it off with a DIY shaker lid hat made from cardboard.
Cowboy and Cowgirl – Saddle up for a cowboy and cowgirl look this Halloween. Simply pair jeans with a button-up shirt. Accessorize with a cowboy hat and bandana around your neck to fully embrace the Wild West spirit, making you ready to ride into the sunset—or to the nearest Halloween party.
Tourists – Become a world traveler without leaving your neighborhood. Don a vibrant Hawaiian shirt paired with comfortable shorts. Essential accessories include sunglasses and a camera hung around your neck, completing the ultimate touristy look that's ready to explore the spooky sights. This all-ages idea is great for families of any size.
DealDash Has Accessories for Costumes
Now that you have some ideas for costumes, it's time to decide what you would like to be. After deciding, be sure that you swing by DealDash and check out the clothing and accessories that are up for bid. You can find some great accessories that will complete your costume look. For example, if you choose the detective costume, a watch would really make the costume pop. Another great costume to accessorize is the tourist. Get a bucket hat, compression socks, and a beach tote – all from DealDash.
Thanks for Reading
These costumes are not only a solution for last-minute decisions but also spotlight stealers in their own quirky ways. They allow you to flaunt your creative prowess without spending hours or a fortune. So, which inventive costume will you be donning this Halloween? Remember, if you need any accessories for costumes or daily life, visit DealDash first. Thanks so much for reading, and happy bidding everyone!
This sponsored DealDash blog article was written by Dawn E, a mother of 3 who loves DealDash. Dawn was compensated for writing this article. Check out Dawn and her cats on Instagram! This blog is written by real DealDash customers. The opinions and advice shared here represent our customers' views and not those of the company.