DealDash Packs for a Cruise: What and What Not to Bring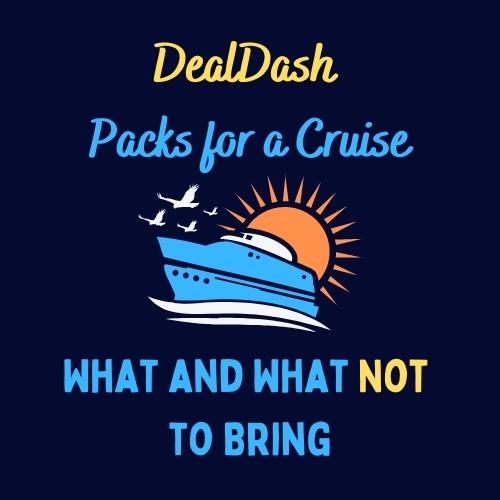 This is a great summer for cruising. No matter if you are visiting The Bahamas, Bermuda, or even Alaska – you're gonna need to pack!
Going on a cruise is a great way to see the world. You can visit different ports and explore new cultures. However, before you go, there are some things you need to take into consideration when it comes to packing. In this blog post, we will talk about what you should bring with you on your cruise and what you should leave at home. Keep reading for some helpful suggestions from DealDash to make sure your cruise is amazing.
Things to Pack for a Cruise
One of the most important things to remember when packing for your cruise is the fact that you will be on a boat. This means that you need to pack accordingly – you aren't going to be able to pop out to the store to get something you forgot. You will want to bring items that will make your time on the ship more enjoyable. For example, you might want
to bring a bathing suit so you can take advantage of the pool or hot tub. You should also pack some comfortable clothes and shoes so you can walk around the ship without getting sore feet. In addition, don't forget to pack your sunscreen and hat. The sun can be very strong when you are out at sea. Here is a quick list to check while you're packing.
Sunblock that is a minimum of 30 SPF
Sneakers/Socks and Flip-flops
Small First Aid kit with Bandaids, Neosporin, any OTC and Perscription medications you take
An outfit for "formal night" if you plan on attending
Sunglasses, hat, and swim cover-up
Travel Febreeze and Wrinkle Releaser
Extra contacts/solution and/or glasses
Emergency cash
For a more thorough list, check out the printable list on the Cruzely site. It has 85 items you won't want to forget to pack.
Things NOT to Pack for a Cruise
There are also some things that you don't need to bring with you on your cruise. One of these things is food. The cruise ship will have plenty of food options for you to choose from. You don't need to bring your own snacks or meals with you. Another thing you don't need to bring is a lot of clothes. You will only need a few outfits for your time on the ship. The cruise ship will also have laundry services if you need them. Finally, you don't need to bring any valuables with you on the cruise. The ship has a safe for you to store your things in.
Shop for Your Cruise on DealDash
Now that you know what to pack and what not to pack for your cruise, it's time to start shopping! DealDash has all of the items you need for your trip. You can find everything from clothes to suitcases and sunglasses. Also, if you would rather relax at home, check out the new hammocks up for bid. They look so comfortable and relaxing.
Thanks for Reading
Thanks so much for reading about packing for your cruise. I hope that you found it helpful while packing for your trip. If you're looking for more helpful tips like this, be sure follow our blog. We post new articles every week about a wide variety of topics. You never know when you might learn something new! Until next time, happy cruising. Have a great day, and happy bidding everyone!
This sponsored DealDash blog article was written by Dawn E, a mother of 3 who loves DealDash. Dawn was compensated for writing this article. Check out Dawn and her cats on Instagram! This blog is written by real DealDash customers. The opinions and advice shared here represent our customers' views and not those of the company.