DealDash Back to School Tips Series – #3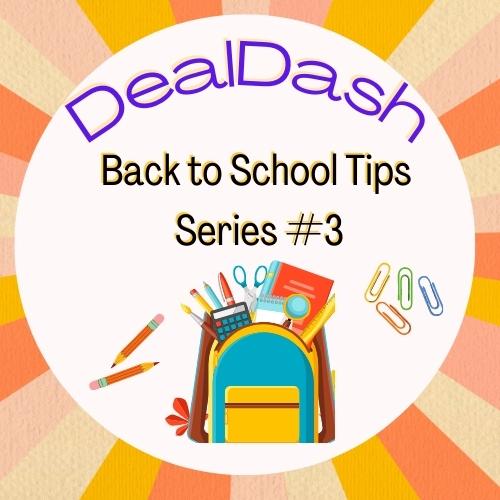 Alright, Mom and Dad, it's getting close to the first day of school. Are you ready?
We're in the home stretch of summer vacation – there are only a few weeks left before kids across the country go back to school. For parents, this can be a time of mixed emotions. You're probably excited to have your little ones back in a routine, but you might also feel a bit of dread at all the new expenses that come with back to school season. In our DealDash Back to School Tips Series, we've been giving you ideas on how to save money and get ready for the new school year. Today, we're going to talk about ways that parents can help their kids adjust after summer break.
Quick School Tips
Summer vacation is a time when kids can relax and enjoy themselves. They don't have to worry about homework, tests, or getting up early for school. However, this can also make it difficult for them to adjust when it's time to return to their normal routines. Here are a few things that you as a parent can do to help your child ease back into the school year:
-Talk with your child about their expectations and concerns. It's important that they know that you understand how they're feeling. Listen carefully and try to address any fears or worries they might have.
-Help them get organized. A few weeks before school starts, start getting your child's supplies together and help them plan out their schedule. This will help them feel more prepared and less overwhelmed when the first day arrives.
-Encourage a healthy lifestyle. Getting enough sleep and eating right is important for kids of all ages, but they're especially crucial during the school year. Help your child establish a bedtime routine and ensure they eat nutritious meals.
-Limit screen time. Too much time spent on phones, computers, and other electronic devices can interfere with sleep and lead to poor grades. During the week, set limits on how much screen time your child can have.
Back to School Tips for Shopping
As any parent knows, when it's time for kids to go back to class, there is always shopping that needs to be done. Shopping for the kids can be a big expense, but there are ways to save money. When you do your shopping on DealDash, you are in for a treat. DealDash offers a range of items that can help your kids with the upcoming school year. You'll find microscope sets for science, chess sets to exercise the mind, and even a U-lock and cable set for a teen who wants to bike to school.
Making a checklist for all of the things that your kids need for school can be a great way to ease your mind and make sure your kids have everything they need. If you want to make things look neat and tidy try making a free online checklist on Checkli. It will keep you organized!
Thanks for Reading
By following these tips, you can help your child transition back into the school year smoothly. For more back to school tips, be sure to check out our previous articles in this series. And, don't forget to visit DealDash for all your back to school needs such as science sets, laptops, and bags.
Do you have any tips for parents who are helping their kids adjust after summer break? Share them in the comments below. Have a great day, and happy bidding, everyone!
This sponsored DealDash blog article was written by Dawn E, a mother of 3 who loves DealDash. Dawn was compensated for writing this article. Check out Dawn and her cats on Instagram! This blog is written by real DealDash customers. The opinions and advice shared here represent our customers' views and not those of the company.