DealDash Back to School Tips Series – #1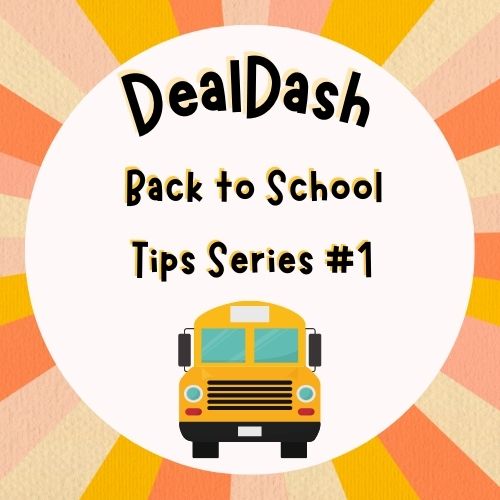 There is about a month to go before the kids return to school. Check here each week for some tips in this new series.
Back to school season will be upon us shortly. This can be a stressful time for both parents and kids. There are so many things to do, and not enough time to do them. In this new blog series, we will give you some tips on how to make the transition back to school as smooth as possible. Each week until class begins we will give you suggestions on making this a smooth transition for your family. Follow these tips from DealDash, and your kids will be ready for another successful year of learning.
Take School Supply Inventory – Then Visit DealDash
The first thing you need to do is take inventory of your child's supplies from the previous year. Chances are they won't need everything on the list, and you don't want to waste money buying things they don't need. Go through their backpack and see what needs to be replaced. Pencils, paper, notebooks, etc. can all be reused.
If you find that your kids need some new items for school, be sure to visit DealDash. You will find bags and backpacks, laptops, and other supplies to make it the best year yet.
School Sleep Schedule
Another important tip is to start getting your child into a school-year sleep schedule now. A few weeks before school starts, have them start going to bed and waking up at the same time they will need to during the school year. This way they won't be exhausted on their first day back. Depending on the age of your student, they have different sleep needs than adults or other children. As a simple rule, pre-school-age kids need around 10-13 hours of sleep per night, while elementary-age kids need around 9-11 hours.
As I said, different kids have different sleep needs. If you would like to learn more about kids and sleep schedules, check out the Sleep Foundation's site. You can learn all about children's sleep needs and disorders.
Brush Up on Reading and Math
If your child is struggling in reading or math, now is the time to get them some help. The summer can be a great time to work on these skills so that they are ready for the new school year. You can find lots of resources online or at your local library. Many schools also offer summer programs to help kids catch up or get ahead. Check with your child's school and the local library to see what they offer.
Thanks for Reading
These are just a few of the things you can do to make sure your child is prepared for the new school year. Stay tuned for next week's blog post where we will give you more tips in this series. In the meantime, visit DealDash for all of your back-to-school shopping for electronics, bags, and more. Do you have any other tips for getting ready for the back-to-school season? Share them with us in the comments below! Thanks for reading, and happy bidding everyone!
This sponsored DealDash blog article was written by Dawn E, a mother of 3 who loves DealDash. Dawn was compensated for writing this article. Check out Dawn and her cats on Instagram! This blog is written by real DealDash customers. The opinions and advice shared here represent our customers' views and not those of the company.