DealDash Fun: Snow Cones in the Summer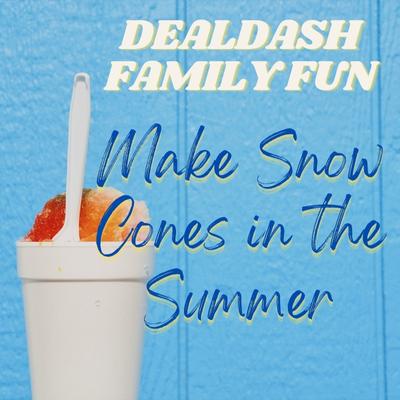 You are sure to love these ideas for sweet summer treats. Snow cones are perfect for a hot, humid day.
It's summertime and that means it's time for snow cones! In this blog post, we will teach you how to make your own snow cones at home. It's a fun activity for the whole family; you can customize the flavors however you like. We will also provide some tips on how to make the perfect snow cone every time. So what are you waiting for? Let's get started with these yummy suggestions from DealDash.
Snow Cone Supplies
To make your own snow cones, you will need:
– A snow cone machine (you can find these at most big box stores or online)
– Ice cubes or frozen discs using the ice molds from your snow cone machine
– Flavored syrup (we like to use fruit flavors, but you can use whatever you like best)
– Cups
– Spoon or scoop (or spoon/straw combo!)
– Optional toppings: whipped cream, sprinkles, etc.
First, start by filling the ice reservoir of your snow cone machine with ice cubes (or frozen discs using the ice molds). Turn on the machine and let it work its magic.
Next, shape the shaved ice as it comes out of the machine.
Then, add your syrup. Feel free to mix more than one flavor together to make your ultimate mix. Be sure to keep reading for some flavor suggestions below.
Finally, it's time to add your toppings! We like to top our snow cones with whipped cream and sprinkles, but you can use whatever you like best. Once your snow cones are topped, they're ready to enjoy!
Flavor Suggestions
Now that you know how to make your own snow cones at home, here are some flavor suggestions from DealDash:
– Cherry/Sour Cherry
– Hawaiian (Coconut/Pineapple)
– Blue Raspberry
– Lemonade
– Limeade
– Orangesicle
-Tiger's Blood (kind of a strawberry/watermelon/coconut combo)
-Mound's Bar (chocolate/coconut)
These are just a few of our favorite flavors, but the possibilities are endless! Get creative and mix different flavors together to make your perfect snow cone. If you're over 21 years old, you can even add some alcohol to your snow cone for an adult twist.
If you would like to get even more ideas for flavors and recipes, check out the Food and Family blog. You will learn some easy recipes to get started.
Update Your Kitchen With DealDash
Summer treats are fun for everyone. Updating your kitchen with some fun, new kitchen gadgets that can make treats is the way to go. DealDash offers many different things for your kitchen such as popcorn machines, ice cream makers, food processors, and so many other items. If you need to update your kitchen with a new snow cone machine, or any other small appliance, DealDash has you covered.
Thanks for Reading
Thanks so much for reading, I hope that you learned a few things about my favorite summer treat. Do you have any tips on making snow cones? Let us know in the comments below. Remember, if your kitchen lacks fun gadgets such as an ice cream maker, stand mixer or popcorn popper, DealDash can help. Thanks for reading, and have a wonderful day! Happy bidding everyone!
This sponsored DealDash blog article was written by Dawn E, a mother of 3 who loves DealDash. Dawn was compensated for writing this article. Check out Dawn and her cats on Instagram! This blog is written by real DealDash customers. The opinions and advice shared here represent our customers' views and not those of the company.