DealDash Family Fun Activities That Won't Break the Bank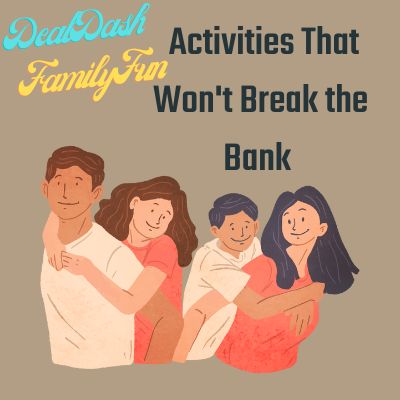 I don't know about yours, but my family is always ready for some fun. If you're on a tight budget, you might need to plan ahead.
Looking for some fun family activities that won't break the bank? Look no further! In this blog post, we will discuss various fun ideas that you and your kids can enjoy without spending a lot of money. From going on walks to playing tag to visiting the park, we have something for everyone. So get ready to have some fun! Read on for some ideas and suggestions from DealDash.
Simple Walks and Nature Hikes
One of the best ways to spend time with your family is by going on walks together. Walking is a great way to get some exercise and fresh air, and spend time bonding with your loved ones. You can even make it into a game by seeing who can spot the most birds or squirrels along the way. If you live in a warmer climate, you can even turn it into a mini-adventure by going on a nature hike and looking for different types of plants and animals.
A Day in the Park for Family Fun
If you're looking for something a little more low-key, then why not visit your local park? Parks are great places to relax and enjoy the outdoors. And best of all, they're usually free to enter! If your kids are feeling energetic, they can also run around and play on the playground equipment. Just be sure to supervise them so that they stay safe.
Exploring new parks with your family can be super fun. If you don't know where your nearest local park is located, try the Park Finder site. It will help you find a park by location or activity.
Outdoor Games Family Fun at Home
One of the great things about having a yard is that you can play all sorts of fun games in it! If you have a basketball hoop, you can play a game of H-O-R-S-E. Or if you have a trampoline, your kids can burn off some energy by bouncing around. And don't forget classic lawn games like frisbee or badminton. These are all great ways to spend some quality time with your family without spending any money.
DealDash Can Help With Family Fun
If you're looking for some great deals on family-friendly items, then be sure to check out DealDash. We have all sorts of items that would be perfect for a fun day with your kids. From outdoor games to picnic baskets and more, we have everything you need to make lasting memories with your loved ones. Not only that, you will find special items for family fun such as popcorn poppers and cotton candy machines. So what are you waiting for? Get started bidding today!
Thanks for Reading
So there you have it, some great ideas for family fun that won't break the bank. We hope you enjoyed this blog post and that you'll be able to use some of these ideas to create lasting memories with your loved ones. Check out the items on DealDash to increase the family fun such as basketball hoops and popcorn poppers. Do you have any suggestions for fun family activities? Share them with us in the comments below. Thanks so much for reading, and happy bidding, everyone!
This sponsored DealDash blog article was written by Dawn E, a mother of 3 who loves DealDash. Dawn was compensated for writing this article. Check out Dawn and her cats on Instagram! This blog is written by real DealDash customers. The opinions and advice shared here represent our customers' views and not those of the company.