DealDash Back to School Tips Series – #2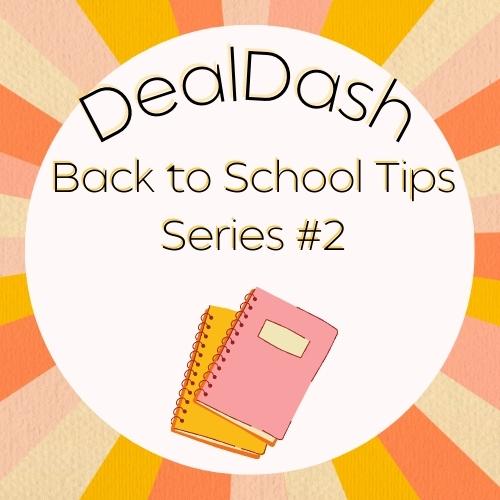 DealDash is back with another article full of tips for the back to school season. Be prepared and have fun with these suggestions.
The back to school season is fast approaching, and so many things need to be done before the new school year begins. It can seem like an impossible task with only one month left! This blog series from DealDash is here with tips on how to make your child's transition back to school as smooth as possible. Follow the suggestions from DealDash each week until classes start up again in September. We hope these ideas help bring order out of chaos. First and foremost, we want to make your child's return to class a happy time for everyone – you included.
Back to School Quick Tips
Are you panicking because you don't feel like you're ready for school to start? You're definitely not alone. Here are a few things you need to do with your kids before school begins again:
1. Get organized. This means creating a plan for what needs to be done each day and week, as well as setting up a homework area and routine, too.
2. Set rules and expectations. Let your kids know what is expected of them in terms of homework, chores, and behavior.
3. Make sure they're caught up on their immunizations and physicals. School nurses will be less likely to send your child home for a small sniffle if they're up-to-date on their shots and health screenings.
4. Buy or borrow books from the library. Your kids have probably read the same books over and over again. It's important for them to have some new material to dive into before the school year starts.
5. Prepare their backpacks and school supplies. This includes making sure they have all the required textbooks, notebooks, pencils, etc. Additionally, now is a great time to shop, as there are many sales in big box stores right now, as well.
6. Meet their teachers and get acquainted with the classroom and curriculum. This can also help ease any anxiety your child may have about starting a new school year.
7. Plan out extracurricular activities. If your child is involved in after-school activities, now is the time to sign them up for the upcoming semester or year. Additionally, for many kids, extracurricular activities are the best part of the back to school experience.
Get Electronics for Back to School from DealDash
Next, one of the most important parts of back to school preparations is making sure your kids have everything they need, and this includes electronics. Whether your child needs a new laptop for classes, earbuds for listening to educational videos, or a tablet for taking notes, DealDash has got you covered. Find all of these electronics for back to school up for bid on DealDash. Additionally, you will find toys and games for the weekend, too!
Also, are you having trouble finding the supply list for your kids? Check out the Teacher Lists site. You can search by school, zip code, or browse by state.
Thanks for Reading
Finally, we hope that this blog series from DealDash is helping you and your kids get ready for the back to school season. Also, don't forget to check back next week for more tips. Thanks so much for reading – now get out there and enjoy the rest of the summer! Have a great day, and happy bidding everyone.
This sponsored DealDash blog article was written by Dawn E, a mother of 3 who loves DealDash. Dawn was compensated for writing this article. Check out Dawn and her cats on Instagram! This blog is written by real DealDash customers. The opinions and advice shared here represent our customers' views and not those of the company.