DealDash Celebrates St. Patrick's Day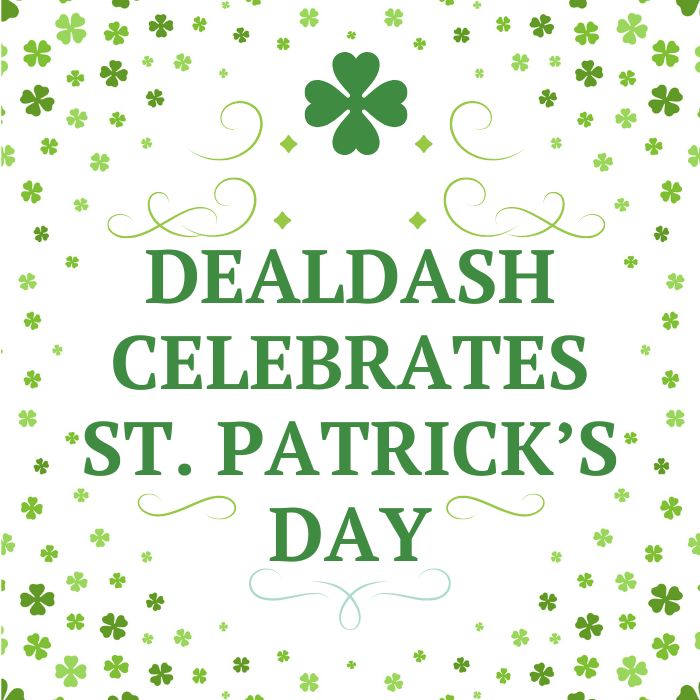 Are you ready to celebrate St. Patrick's Day? You only have a few more days to wait, it's happening this Friday, March 17th, 2023!
St. Patrick's Day is a centuries-old tradition that is still celebrated around the world. It was initially a day to honor St. Patrick, who is the patron saint of Ireland. It has been a popular source of celebration as much today as it was in the past. The holiday is now synonymous with revelry and good-natured partying. This can include a parade and Irish music. But what else can you do to celebrate St. Patrick's Day? It can be easy to get caught up in its more exuberant customs, but there are plenty of ways to enjoy the holiday without throwing a wild bash. Keep reading for more information about St. Patrick's Day, from DealDash.
Learn More About St. Patrick
One of the best ways to experience St. Patrick's Day is to learn about the legendary figure it is based on. Patrick was actually a fourth-century Christian missionary who evangelized to the Irish. This established a strong presence in the country. He also features in a few of Ireland's folktales, as well. One of the most famous stories about him is the tale of him driving the "snakes" from Ireland. While this was a metaphor for attempting to drive out pagans, it is still a beloved story. To learn more about his life and gain a deeper appreciation of the holiday, visit a library – they're sure to have some books on display in March to celebrate.
Parades, Music, Dancing, and FUN!
If you're looking to get more involved, there are plenty of options. Many cities hold parades commemorating the holiday, and they are well worth attending. Witnessing the elaborate floats and hearing Irish musical performances will surely put you in the holiday spirit. You can also attend a local pub to listen to Irish music, consume authentic Irish fare, and enjoy a pint of Guinness.
To truly soak in the festive atmosphere, it is recommended to wear green or an outfit with a Celtic theme. Visiting local malls or specialty shops would be a great way to find such items. You can also make some of your own decorations, such as a lucky four-leaf clover or a festive banner. You can even increase the fun by hosting a potluck for friends and family, or by organizing a neighborhood Irish dance.
DealDash Can Help With the Festivities
No matter if you plan on doing a quiet celebration at home or attending a block party, DealDash can help with supplies. If you are going to stay close to home but want to get into a festive atmosphere, why not check out some of the Bluetooth speakers on DealDash? You can get into the party atmosphere at home by playing some Irish music. If you want to extend the celebration to your friends and neighbors, you will be the hit of the party when you bring a popcorn maker or cotton candy machine! Have you already won one from DealDash? I'll be sure to invite you to my St. Patrick's Day celebration!
Thanks for Reading
At its heart, St. Patrick's Day is meant to be a celebration of Irish culture, and the togetherness of family and friends. Whether you choose to visit a parade, cook authentic cuisine, or simply wear something festive, it is sure to be a memorable experience. No matter what activities you choose, this annual holiday never fails to evoke a sense of belonging and goodwill. Be sure to visit DealDash for all of your party and celebration needs, such as popcorn makers, ice machines, and Bluetooth speakers. Thanks so much for reading, and happy bidding everyone!
This sponsored DealDash blog article was written by Dawn E, a mother of 3 who loves DealDash. Dawn was compensated for writing this article. Check out Dawn and her cats on Instagram! This blog is written by real DealDash customers. The opinions and advice shared here represent our customers' views and not those of the company.