DealDash Picks Cool Meals for a Hot Summer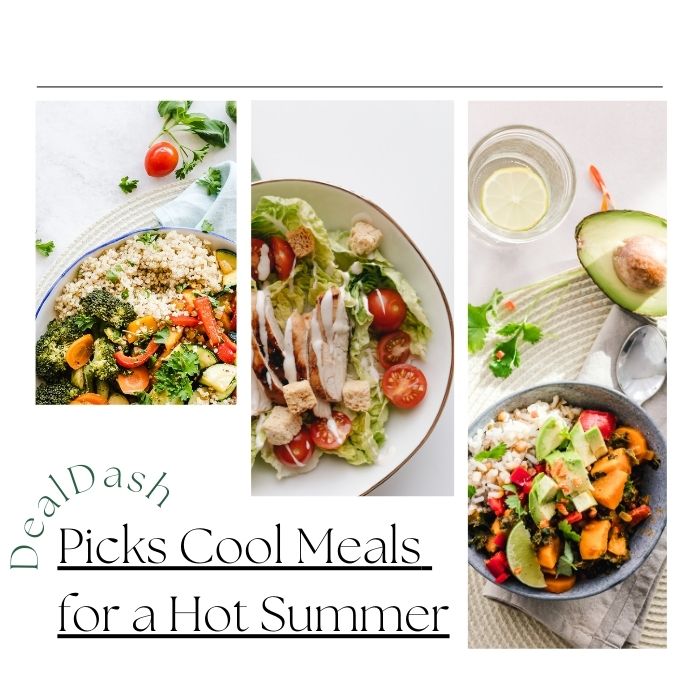 Most people don't want to eat huge meals and heat up their kitchen in the summer months. Let's take a look at some light meals that won't get you overheated.
Summertime is here, and as the temperature rises, our appetite for heavy and warming meals diminishes. Instead, we crave light, refreshing, and cool meals that can help us beat the summer heat. Luckily, summer is packed with delicious fresh ingredients that can be used to make summery meals. Read on for some yummy, light meal ideas for summer, from DealDash.
Cool Meals for Summer – Salad
Salads are a great option for a light yet nutritious meal full of vitamins and fiber. For a hearty salad, try making a Mexican-inspired dish with black beans, corn, and tomatoes tossed with a chili-lime dressing. A tasty twist on the traditional Greek salad is to use quinoa in place of the usual couscous or bulgar wheat. Or you could opt for a Southwestern-style salad with avocados, peppers, onions, fresh corn, and a creamy lime sauce.
Cool Meals for Summer – Cold Soup
Another great warm-weather meal is a cold soup. Cold soups are often made with cucumber and yogurt, but you can also spice up your soup recipe with herbs and spices like cilantro and jalapeño. Other tasty cold soup recipes include gazpacho, a tomato-based soup with bell peppers and a hint of garlic. You can even mix things up and make a watermelon gazpacho, a fruity blend of tomatoes and cucumbers with a sweet hint of melon.
If cold soup sounds like a yummy meal today, be sure to check out the Martha Stewart site for more cold soup recipes.
Cool Meals for Summer – Side Dishes
For a refreshing side dish, try making a chilled Asian noodle salad. Start with some cooked soba or udon noodles, then toss with a dressing made from sesame oil, mirin, tamari, and ginger. Add in some crunchy vegetables like shredded carrots and cucumber, and top with scallions and sesame seeds.
Grilled vegetables are an excellent choice for a hot summer meal. Eggplant, peppers, zucchini, and asparagus are all delicious when cooked over an open flame. Marinate these vegetables in olive oil, garlic, and herbs before grilling for an added flavor boost. If you're looking for something heartier, try throwing some shrimp on the grill as well.
Finally, no summer meal would be complete without a refreshing fruit salad. A classic combination is pineapple, mango, and banana. However, you can get creative and toss in some berries or even kiwi. Drizzle the fruit with a honey-lime juice mixture for a sweet finish.
DealDash Has Cool Meal Cooking Tools
No matter which options you choose for your summer meals, DealDash has the tools you need for the kitchen. When you visit the Kitchen and Dining category you will find classic cooking items such as pots and pans, but you will also be pleased to discover some new favorites. I mean, who wouldn't want an awesome smart refrigerator?! If you're not in the market for such a big splurge, why not test out having your own personal barista with an 8-in-1 beverage maker? It's up to you, choose your favorite item and make some of the cool meals in this article now!
Thanks for Reading
Whether you're looking for a light lunch or a hearty dinner, there are plenty of delicious cool meals you can whip up this summer. By taking advantage of the season's freshest ingredients, you can create meals that are both healthy and satisfying. So go ahead and beat the heat with some cool and creative meals! Thanks so much for reading, and be sure to visit DealDash to grab some kitchen tools today. Have a great day, and happy bidding everyone!
This sponsored DealDash blog article was written by Dawn E, a mother of 3 who loves DealDash. Dawn was compensated for writing this article. Check out Dawn and her cats on Instagram! This blog is written by real DealDash customers. The opinions and advice shared here represent our customers' views and not those of the company.