DealDash Tips for Taking Kids on Vacation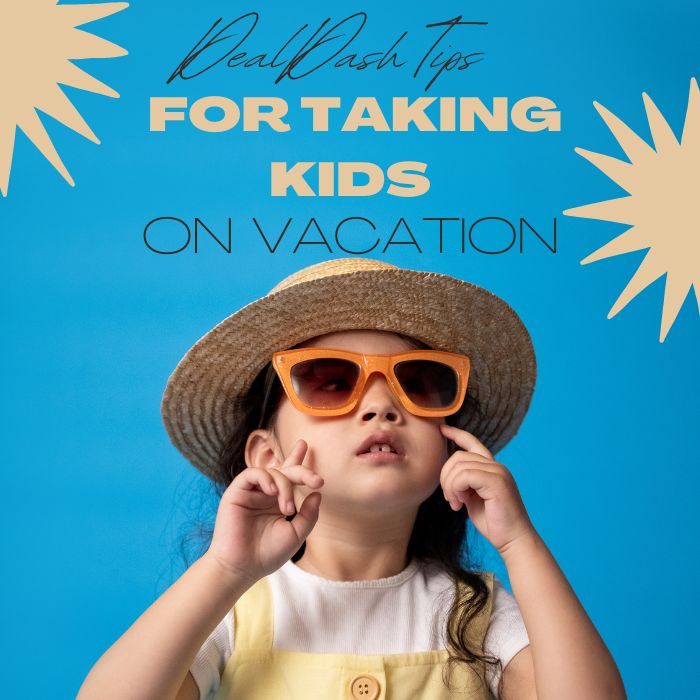 Everyone loves going on vacation, especially kids! It isn't always sunshine and rainbows, though. Here are tips to help!
Going on vacation with kids can be an incredible experience filled with memorable moments and quality time spent together as a family. However, traveling with children comes with its own set of challenges and requires careful planning and preparation. To ensure a stress-free and enjoyable trip for the entire family, here are some tips from DealDash to help make a vacation with children an easy and enjoyable experience.
Vacation Tips for Destination and Accommodation
Choose a Kid-Friendly Destination: It's important to consider a kid-friendly destination when deciding where to go on vacation. Look for destinations that offer plenty of activities for kids, such as playgrounds, parks, and amusement parks. Also, research ahead of time if there are any kid-specific attractions or events that you can take part in. This will ensure that your kids have plenty to do during the trip.
Research Accommodations: When looking for the right accommodations, try to find a place that offers family-oriented amenities like a pool or kitchenette. If possible, book a room with two beds to make sure everyone has enough space. You should also make sure that the hotel or resort is child-friendly by researching reviews and inquiring about policies for extra charges or amenities.
Packing and Planning Your Trip
Bring Essentials: When traveling with kids, it's important to bring all the essential items needed for the trip. Make sure to pack items like diapers, wipes, and extra clothes in case of accidents. You'll also want to bring entertainment items like books, tablets, and toys to keep kids entertained during the travel process.
Speaking of packing, I would like to share an amazing (free) site that I found when I was preparing to pack for my cruise this summer. It's called Packtor, and it will help you create packing lists and to-do lists before you leave. It's a super helpful site, check it out.
Involve Your Kids in Planning: Getting kids involved in the planning process can help make the entire trip more enjoyable. Ask them where they want to go and what they want to do during the vacation. By involving them in the planning, it will help to make them feel like they are part of the experience and can get excited about the upcoming trip.
Tips for During Your Trip
Plan for Downtime: Don't overbook yourself and your family when planning out the vacation. Taking a few days off in between activities can give your family a chance to relax and spend quality time together. Try to plan activities in the morning so you can avoid all the crowds and heat. During downtime, you can explore the city, find local attractions, or just rest.
Pack Snacks: Snacks are essential when traveling with kids as they can get cranky when hungry. Packing snacks for the trip will help keep your kids from getting "angry" and make the trip smoother. Make sure to pack easy-to-eat snacks like granola bars, fruits, and sandwiches.
Schedule Breaks: Traveling with kids can be tiring and overwhelming, so be sure to plan for stops along the way. This will allow your kids to stretch their legs, use the restroom, and recharge before getting back on the road. Pack some activities to keep them occupied while waiting in line or during downtime.
DealDash Has Travel Supplies
Now that you have your plans in mind, it's time to make sure you have the travel supplies you need. If you come up short on supplies, it's time to head over to DealDash. No matter where you are planning on traveling, DealDash has you covered! You will find luggage, tote bags, and belt bags. You will also find first aid kit bundles that have everything you need to take care of small emergencies.
Thanks for Reading
By following these tips, you can be sure to maximize the fun and minimize the stress on your next vacation with kids. Take time to research the destination, involve your kids in the planning, and remember to bring all the essentials. With some careful planning and consideration, your family vacation can be an unforgettable experience for everyone. Be sure to visit DealDash before you begin packing for travel supplies. Thanks so much for reading, and happy bidding everyone!
This sponsored DealDash blog article was written by Dawn E, a mother of 3 who loves DealDash. Dawn was compensated for writing this article. Check out Dawn and her cats on Instagram! This blog is written by real DealDash customers. The opinions and advice shared here represent our customers' views and not those of the company.