DealDash: Stay Motivated With Summer on the Brain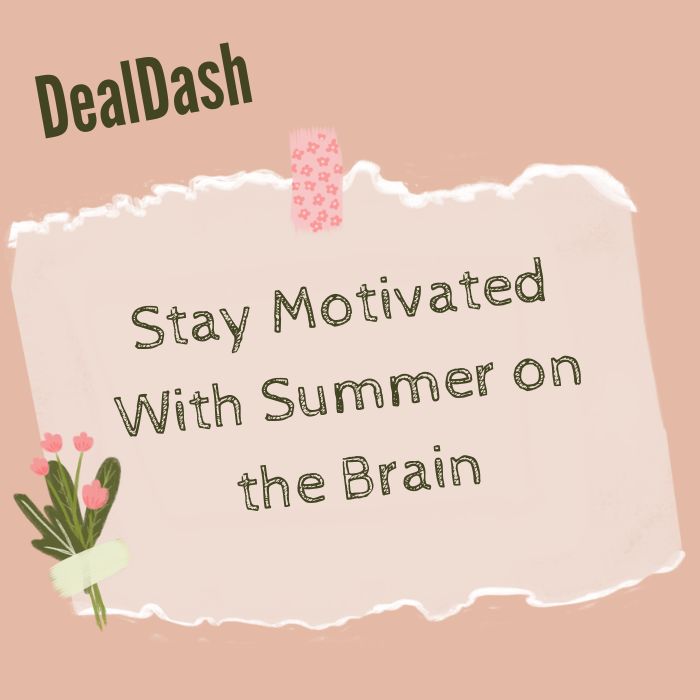 Don't lose your motivation just because it's summer! Use these handy tips to keep your motivation "hot" this summer.
Staying motivated and productive every day can be a challenge, especially when faced with demanding workloads and constant distractions. However, with the right strategies and mindset, it is possible to maintain high levels of motivation and productivity consistently. In this blog post, we'll look at five effective strategies to stay motivated and productive throughout the day. Keep reading for some excellent tips, from DealDash.
Stay Motivated by Creating Goals
First up, before starting your day, take the time to set realistic goals. Instead of setting one large goal for yourself, break it down into smaller, achievable tasks. This helps to keep your motivation levels steady as you can celebrate when each smaller goal is achieved. Also, setting realistic goals can also help give you a sense of purpose and allow you to focus on what needs to be done.
Stay Motivated by Taking Breaks
It's important to take regular breaks throughout the day in order to maintain a high level of motivation and productivity. These breaks don't have to be long, but just enough to give your mind and body time to rest before getting back to work. During these breaks, you can take the opportunity to do something relaxing such as going for a walk or drinking a cup of tea. And as an extra tip – try not to take your phone with you on your mini-break. Your goal is to let your mind rest for a few moments, and checking your notifications and getting "sucked in" to scrolling on your phone is not relaxing for your mind.
If you have a hard time putting your phone down to let your mind relax, there are a ton of apps out there to help. Check out this article from Digital Trends to learn more about apps to help limit your screen time.
Stay Motivated by Prioritizing Your Tasks
Next, when faced with a lot of tasks, it can become overwhelming and demotivating to tackle them all at once. To stay motivated and productive, prioritize your tasks by importance and urgency. Additionally, this will help you to manage your workload more effectively and prevent you from feeling overwhelmed.
Stay Motivated by Getting Enough Sleep
Getting enough sleep is essential for staying productive and motivated throughout the day. Without enough sleep, your body and mind are unable to function properly and your performance can suffer. Aim for 7-9 hours of quality sleep each night to ensure you're well-rested and able to focus on the tasks at hand.
RewardYourself – DealDash Can Help!
It's important to reward yourself for your accomplishments. When you achieve a goal or finish a task, take the time to celebrate and reward yourself. This will help to keep your motivation levels high and will encourage you to keep going. DealDash has items that everyone from kids to elderly folks (and everyone in between) will love. A great place to begin on DealDash is the home page. You will see everything that is currently being bid on. You will find everything from cars and trucks, electronics, vacations, and so much more! Need a gift for a recent graduate? You will find elegant and beautiful watches up for bid today. Check out everything that DealDash has up for bid – you won't be disappointed!
Thanks for Reading
By following these five strategies, you can stay motivated and productive every day. Remember to set realistic goals, take regular breaks, prioritize your tasks, get enough sleep, and reward yourself for your successes. With the right mindset and strategies, you can ensure consistent levels of motivation and productivity. Be sure to visit DealDash today and find all of the wonderful items up for bid today. You just might find a treasure today. Have a great day, and happy bidding everyone!
This sponsored DealDash blog article was written by Dawn E, a mother of 3 who loves DealDash. Dawn was compensated for writing this article. Check out Dawn and her cats on Instagram! This blog is written by real DealDash customers. The opinions and advice shared here represent our customers' views and not those of the company.