DealDash Snow Tips this Winter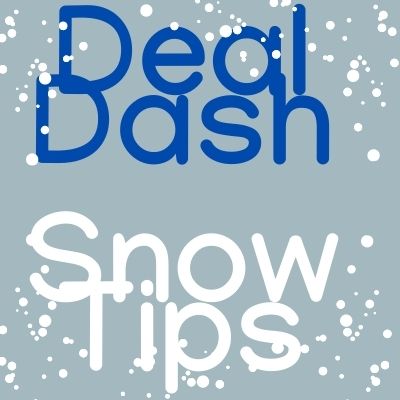 Living in the North means dealing with snow. You need these snow removal tips from DealDash.
Winter is here in full force, and for many of us, that means snow. DealDash has a few snow tips that will make your winter a little more pleasant this year. Read this article, stay warm, and Happy February!
Snow Tips #1 – DealDash Tools
The first thing that you will want to make sure you have when it snows is the right tools for the job. Now, if you are reading this and there is already a foot of snow on the ground, keep this snow tip in mind for the next big snow. In fact, go to DealDash immediately and search for snowblowers and snowthrowers, shovels, and warm clothing.
Trust me, you don't want to shovel an entire driveway's worth of snow with a cheap flimsy shovel. This is a great example of a time when you want to choose the best quality available. When you choose high-quality snow removal tools it makes the job faster and easier on your body, which future-you will appreciate.
Additionally, don't forget thick gloves, scarves, and warm boots. These items are essential if you want to stay warm and dry while shoveling.
Snow Tips #2 – Get Help
Next, be sure that you have lined up some help for the snow removal. In my home, there are five of us, and every person, even the smallest 5-year-old helps with the snow. You might scoff and say that the 3 feet that the preschooler clears are insignificant, however, that's 5 fewer minutes that I have to be outside in the cold, so I'll take it!
If you live in a place where is snow-heavy, you might want to consider hiring a person to come plow your driveway. In my neighborhood, there are quite a few people who drive a plow as a side-gig in the winter. When the snow is extra-deep, I give one of them a call and they plow my driveway for $10. It's money well-spent when the snow is too deep for my snowblower.
Snow Tips #3 – Have Fun
Finally, I know that shoveling snow isn't fun. However, you can make it a little more enjoyable if you have a good attitude and try to mix in a little fun with the work. For example, why not have one family member start making snowballs out of the shoveled snow pile? That way when the shoveling is done you can have an epic snowball fight! Or when you have a big pile of discarded snow, why not have a snowman-making contest with the kids? The winner gets to pick the after-shoveling snack. For some more ways to be creative and have a little fun with shoveling, check out this Bob Villa article.
Thanks for Reading
Thanks so much for reading this snow tips DealDash article. I hope that it gave you some ideas on how to make snow removal easier and more fun.
Do you need snow removal tools for the winter? DealDash has shovels, boots, coats, gloves, and scarves. You will find all of these items and more that you need for winter. Have a great time on DealDash and happy bidding everyone!
This sponsored DealDash blog article was written by Dawn E, a mother of 3 who loves DealDash. Dawn was compensated for writing this article. Check out Dawn and her cats on Instagram! This blog is written by real DealDash customers. The opinions and advice shared here represent our customers' views and not those of the company.