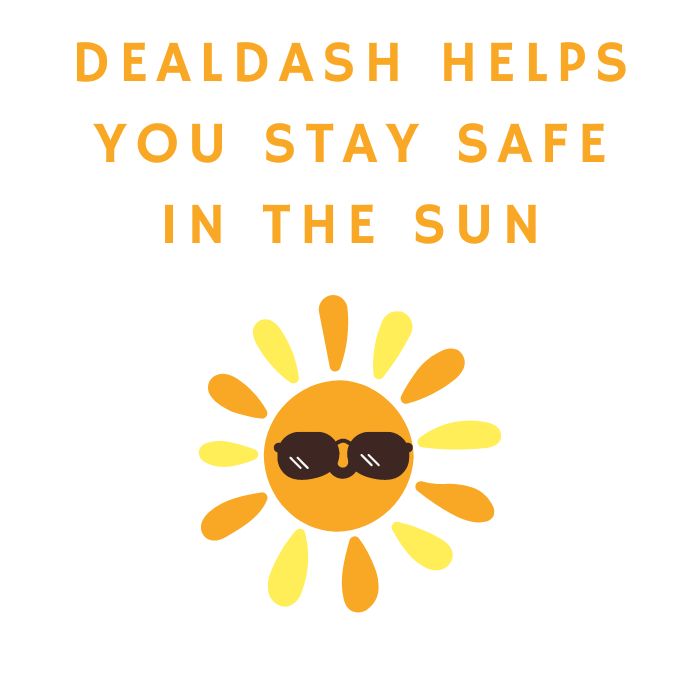 Summer is on its way, and with it comes the bright rays of the sun. We all need our Vitamin D, but too much sun can be harmful.
The sun is a powerful source of energy, and it's important to protect yourself from its harmful rays. Exposure to ultraviolet (UV) radiation from the sun can cause sunburn, premature skin aging, and skin cancer. There are many ways to mitigate some of your sun exposure. Read on for some helpful tips from DealDash to stay safe in the sun this summer.
Stay Safe in the Sun with Barriers
Barriers are a great way to protect yourself and stay safe from the sun's powerful rays. The first, and most common sun protection is wearing sunscreen. So, be sure to wear sunscreen with an SPF of 30 or higher every day, even on cloudy days. Apply sunscreen liberally to all exposed skin, including your face, ears, neck, hands, and feet. Reapply sunscreen every two hours, or more often if you're sweating or swimming.
Also, Wear protective clothing, such as a hat and sunglasses, when you're outside. A hat with a brim that shades your face, ears, and neck is especially important. Sunglasses should block 99% of both UVA and UVB rays. If you are planning on spending lots of time out in the sun this summer, I suggest getting some UPF clothing. This clothing is made specifically to protect you from extended sun exposure. Check out this article from REI that will explain how to choose the proper UPF clothing for your activity.
Additionally, seek shade when possible. Avoid being in the sun during the middle of the day, when the sun's rays are strongest. If you must be in the sun during these hours, seek shade under a tree or umbrella. These things will help keep you cool as well as provide some protection for your skin.
Quick Ways to Stay Safe in the Sun
Limit your time in the sun. The more time you spend in the sun, the more your skin is exposed to UV radiation. Aim to spend no more than two hours in the sun at a time.
Take breaks from the sun. If you're going to be in the sun for an extended period of time, take breaks every 30 minutes to go inside or into the shade.
Stay hydrated. Drink plenty of fluids, such as water or juice, to stay hydrated. This will help your body cool down and protect your skin from damage.
See a doctor for regular skin checks. It's important to see a doctor for regular skin checks, even if you don't have any concerns about your skin. Early detection of skin cancer is key to successful treatment.
DealDash Has Fun Summer Items
On DealDash, you will find lots of fun items for the whole family to enjoy this summer. For younger kids, check out the Step2 All Around Canopy Wagon. This Wagon has seats that can fold down to become a table or a flatbed, making a useful surface for extra storage, or even a table for snacks. And keeping with today's theme, the wagon also has a (removable) canopy that will help your little one stay safe from the sun's rays. You will also find beach tents and tons of summer clothing like sun dresses and brimmed hats on DealDash.
Thanks for Reading
By following these simple tips, you can help protect yourself from the harmful effects of the sun. Remember, the sun's rays can damage your skin even on cloudy days, so it's important to wear sunscreen and protective clothing every day. Thanks so much for reading the newest article. Be sure to visit DealDash and check out all of the fun summer items for kids and adults. Have a great day, and happy bidding everyone!
This sponsored DealDash blog article was written by Dawn E, a mother of 3 who loves DealDash. Dawn was compensated for writing this article. Check out Dawn and her cats on Instagram! This blog is written by real DealDash customers. The opinions and advice shared here represent our customers' views and not those of the company.