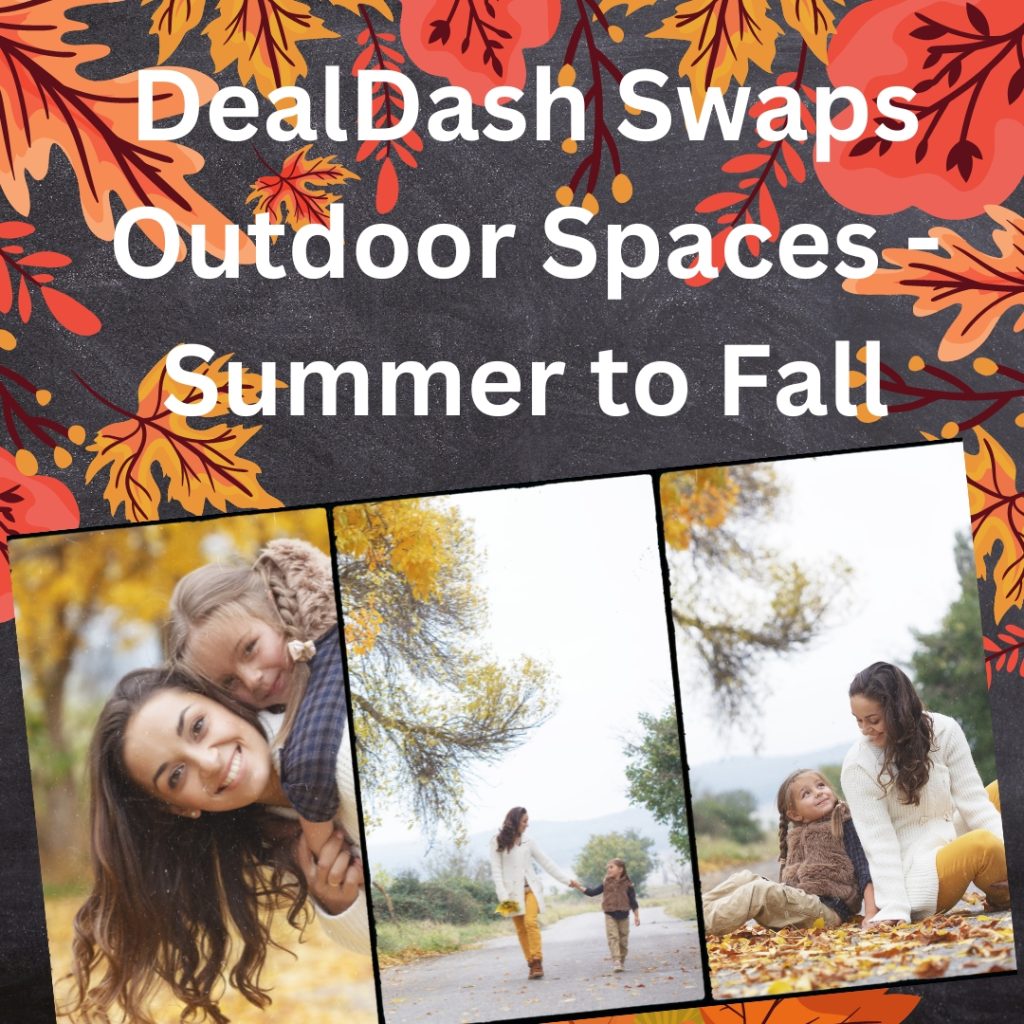 There are a few weeks left in summer, but it's not too early to think about fall. If you start now, you will have an easier time transitioning your outdoor spaces.
Seasonal transitions bring fresh excitement and the opportunity to renew the spaces where we live and relax. Your outdoor living space where you've enjoyed the warmth of summer, can be transformed into a cozy retreat that embraces the fall season. Here's a guide on how to make that transformation seamless, maximizing your outdoor living space for autumnal enjoyment. Read on for some suggestions from DealDash.
Swap the Fabrics
First up is fabrics. Summer's bright and light fabrics can be replaced with warm, textured materials like flannel or wool. Autumn-themed cushions and throws add comfort and seasonal flair. Consider embracing the earthy tones of autumn, like browns, oranges, reds, and golds, that provide a stark contrast to summer's vibrant hues.
Adapt the Lighting
Next, while soft fairy lights may have illuminated your summer evenings, the fall calls for the addition of lanterns or a fire pit to create a warm, cozy glow. This can make those earlier sunsets feel more inviting and prolong your outdoor enjoyment.
Adjust the Furniture
Summer's lightweight furniture, easy to move and ideal for lounging, may not be suitable for the cooler weather. Consider adding some heavier pieces made of wood or metal that will withstand the chilly autumn evenings. A strategically placed outdoor heater or fireplace can keep everyone warm and extend your time outside.
Embrace Seasonal Plants and Dining
Transitioning from blooming summer flowers to potted mums, pumpkins, or gourds can change the atmosphere significantly. Adding evergreen shrubs ensures greenery throughout the colder months. And while summer may have been about casual BBQs, fall is an opportunity to upgrade your outdoor dining setup. Hearty fall meals can be enjoyed outside with weather-resistant tableware that complements the season.
Add Cozy Touches
Introduce soft blankets, outdoor rugs, and pillows to add comfort and warmth to your outdoor space. Transitioning from water-based summer games to a horseshoe pit or bocce can keep the outdoor fun alive. If you have a fire pit, a nice stack of firewood can become both a functional and decorative element.
For some more ideas on adding some cozy touches, check out the Southern Home and Hospitality blog. You will find lots of ideas that you can use to make your home warm and cozy for the coming autumn season.
Prepare for Weather Changes
Finally, while summer's design may be open and airy, fall requires some shelter from unexpected rain or wind. Consider a gazebo or outdoor umbrella to keep everyone comfortable. An autumn-inspired centerpiece with leaves, pine cones, and candles can set the right tone and make a beautiful addition to your outdoor living space.
DealDash Has Home Decor For All Seasons
No matter what season we are in, DealDash has home decor year-round. Spring, summer, winter, or fall, DealDash has decor for them all! One of the most beautiful items that you can find right now up for auction is a set of solar LED lanterns. They have a flowered design with a hand-painted finish. They are absolutely gorgeous! You will also find pathway lights, clocks, and throw pillows.
Thanks for Reading
So, as you have learned, swapping your outdoor space from summer to fall doesn't need to be a task to dread. With just a few easy changes, you can create an inviting seasonal space that maximizes comfort and aesthetics. Embrace the season's natural beauty, and also add personal touches that reflect your style. Enjoy the process and the new ambiance it brings. Enjoy the unique sensations of fall, and create memories that will last a lifetime. Be sure to visit DealDash for some beautiful pieces to enhance your summer-to-fall swap this year. Thanks so much, and happy bidding everyone!
This sponsored DealDash blog article was written by Dawn E, a mother of 3 who loves DealDash. Dawn was compensated for writing this article. Check out Dawn and her cats on Instagram! This blog is written by real DealDash customers. The opinions and advice shared here represent our customers' views and not those of the company.