DealDash Prepares Your Kids for the School Year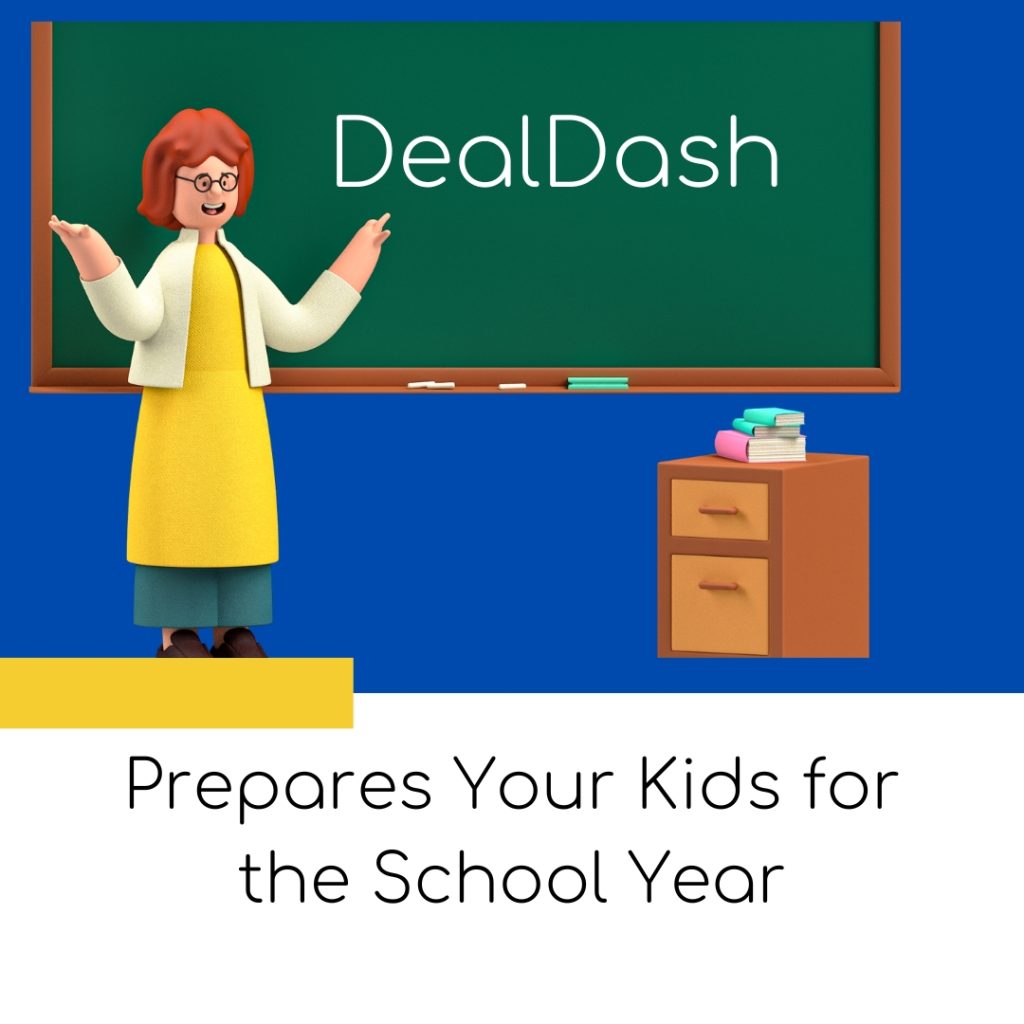 There are still a few weeks of summer vacation left (at least where I live!). So this is the perfect time to begin preparing your kids for the upcoming school year.
August has always been synonymous with the back-to-school season. As the summer begins to wane and back-to-school season looms on the horizon, families everywhere face the task of shifting from vacay mode to a routine. The transition doesn't have to be stressful. With careful planning and a dash of enthusiasm, you can make this yearly ritual an enjoyable experience for your family. Here's how – from DealDash.
Gradually Adjusting School Year Bedtime Schedules
Summer often means late nights and even later mornings. However, as school approaches, it's essential to adjust to a bedtime routine that aligns with school hours. For example, in the summer, my daughter's camp begins at 9 am. During school, she has to be at the bus stop at 7 am to catch the bus. So, instead of waking up at 8 am for camp, she has to wake up at 6 am for school.
Start Early: Begin adjusting bedtime schedules two weeks before school starts. Gradually move bedtime earlier by 15 minutes every few nights until you reach the desired bedtime.
Create a Routine: A consistent evening ritual can help signal to children that it's time to wind down. Reading a book, dimming the lights, or playing soft music can create a calming environment.
Be Consistent: Even on weekends, try to stick to the school-time sleep schedule to reinforce the routine. For my kids, I let them stay up an extra 30 minutes on the weekends, but that's it.
Organizing School Supplies
Having everything ready for the first day of school not only eases anxiety but also builds excitement. The list should be provided on your school's website. However, some big box stores provide lists if it isn't. These lists may or may not have the exact items your kiddos need, however, so try to get the list from the school. If you aren't having any luck, try this list from the Teacher's List site.
Tips:
Create a Checklist: Collaborate with your children to make a list of necessary supplies. Many schools provide a recommended list.
Shop Together: Make shopping for supplies a fun family outing. Allow your children to pick some of their items to personalize their experience.
Organize Ahead of Time: Label everything and have backpacks packed and ready a few days before school starts.
Fostering a Positive Attitude About Learning
Fostering a positive attitude about learning is pivotal in guiding children toward academic success and nurturing a love of learning and education. It's an approach that involves both parents and children in creating an environment where learning is appreciated and celebrated.
Discuss Expectations and Goals: Talk about the upcoming year, what your children might expect, and what goals they may have.
Highlight the Fun: Focus on the exciting aspects of school like seeing friends, joining clubs, or learning new things.
Stay Involved: Show interest in their school life and encourage them to share their experiences and achievements.
DealDash Has Items Kids Will Love
When it comes to shopping, DealDash has plenty of things that your kids will love. No matter if your children like Legos, sports (even Pickleball!), fishing, or playing music – DealDash has it! When you shop on DealDash, you will find fishing rods, Lego sets, Pickleball paddles, and musical instruments. With all of these great items, your kids won't even mind that summer vacation is ending!
Thanks for Reading
Returning to school is more than just preparing physically; it's about setting the tone for a productive and enjoyable year. By gradually adjusting sleep schedules, organizing supplies, and nurturing a positive attitude toward learning, you pave the way for a successful and stress-free start.
Don't your kids deserve a treat? Visit DealDash for an instrument for your kids like an electric piano, or a cool Lego set that they will love. No matter what your kids are into, you'll find it on DealDash. Thanks so much for reading, and happy bidding everyone.
This sponsored DealDash blog article was written by Dawn E, a mother of 3 who loves DealDash. Dawn was compensated for writing this article. Check out Dawn and her cats on Instagram! This blog is written by real DealDash customers. The opinions and advice shared here represent our customers' views and not those of the company.