DealDash Kids: How to Talk About Finances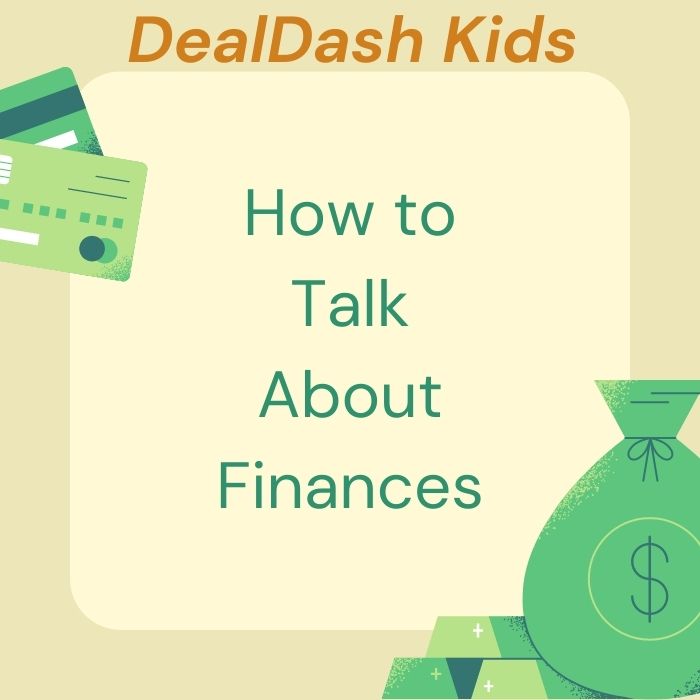 It's never too early to teach your kids about finances. This article will get you started on the conversation.
Teaching children about money management and financial literacy are key life skills that will help them in the future. Many parents, however, don't feel comfortable discussing finances with their kids. Also, money conversations can be difficult, especially since they often feel like they know very little about finances themselves. However, parents have an important role to play in equipping youngsters with the tools to manage their money. Read this article from DealDash and learn how to get the conversation started.
Just to get started, know that having open conversations about finances with children is crucial. It will help arm them with the knowledge and financial know-how to make informed decisions. Talking to kids about money, budgets, and other financial matters need not be intimidating. In this article, we will provide practical wisdom on how to approach the conversation with your children.
Make Finances Relevant
A great way to engage your kids is to explain the practical applications of financial literacy. Rather than lecturing them on the basics of personal finances, parents can weave financial lessons into an interesting story or activity. Make sure to keep the conversation simple, but relatable. Show children how splitting the cost of a dinner out among three people divides up into three shares and how sales tax affects the total cost. This will help them get excited about learning about finances and understanding the practical consequences of it. They will especially enjoy this lesson if you take them out and about to a restaurant and let them use their newfound knowledge.
Use Real-Life Examples
In a world where many shopping decisions are now a single click, it is easy for kids to lose a tangible connection to the true cost of things. Parents can help teach children the value of money by supplying them with the necessary money management tools. So, use real-life examples like tracking a budget, setting financial goals, and setting up emergency funds to demonstrate how these principles can be practically applied.
With your guidance, try allowing children to track a family budget, set goals, and work on personal finance. Additionally, these activities will help them learn from a hands-on experience and help them understand the connections between spending and saving their money. This will prove invaluable in better equipping them to handle their own personal finances as they reach adulthood.
Need some help getting started with a family budget? Nerd Wallet is a great resource with lots of articles on how to create a family budget. Check out this resource, and your kids will thank you in the future because you're paving the way for success.
Become Fluent in Finances
Finally, the best way to start a conversation about finances with your children is to become fluent in the language of money. It is important for parents to know how to be disciplined in money management. Do this by utilizing savings, creating a budget, and understanding credit cards. Parents can gain financial literacy by reading books or talking to a financial advisor, or taking an online course.
Arm yourself with the necessary knowledge to conduct financial conversations with your children. You will be able to create an atmosphere of knowledge and trust. Moreover, you will be able to better answer any questions your child may have. You can provide them with the necessary resources to make sound financial decisions. Remember, the more you know about finances yourself, the easier it will be to steer your kids on the path to success.
DealDash Has Places to Put Your Cash
Now that you have saved a lot of money with your smart financial decisions, where are you going to keep all of that cash? I suggest a wallet, purse, or bag from DealDash! You will find many different types and styles of wallets, in fine leather, in black or brown. Don't miss out on getting one of these beautiful leather wallets, because they are going fast! They come in a high-quality box also, making it the perfect gift item.
Thanks for Reading
Parents don't have to be financial wizards to teach their kids how to handle money. A crucial part of being a good parent is equipping children with life skills so they can develop into independent and confident adults. Money conversations may seem daunting at first, but by keeping the conversations relatable, open, and engaging you will be able to help your children gain the necessary financial literacy knowledge. By creating an atmosphere of trust and support, you will be able to help your children take their first steps in money management. Be sure to visit DealDash for a wallet, purse, or bag to store all of that extra money. Thanks so much for reading, and happy bidding everyone!
This sponsored DealDash blog article was written by Dawn E, a mother of 3 who loves DealDash. Dawn was compensated for writing this article. Check out Dawn and her cats on Instagram! This blog is written by real DealDash customers. The opinions and advice shared here represent our customers' views and not those of the company.