DealDash Updates Your Space – Bathroom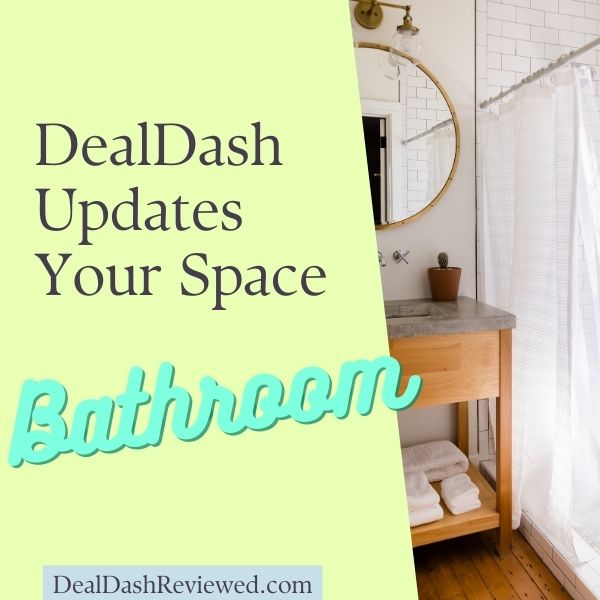 We are moving into a new year – Welcome to 2023!!! Don't you think it's about time that you gave your bathroom a re-do?
Do you feel like your bathroom needs an update? DealDash can help you makeover your space without breaking the bank. From toiletries to towels, we have everything you need to give your bathroom a fresh look. Please keep reading to see how easy it is to transform your bathroom into a stylish and functional space. With these DealDash updates for your bathroom, you are on your way to an excellent 2023!
Update with New Paint and Tile
Ready for a fresh new look? Paint and tile are two great, impactful ways to update any space on a budget. Choosing coordinating paint and tile can give your room a focal point that sets the tone for the remaining decor. Not sure where to start? Try exploring your local home improvement stores! It allows you to touch and feel different textures, paints, finishes, and tiles. You can discover combinations that mesh together perfectly. With just a couple of updates, you can create a warm, inviting atmosphere that anyone would enjoy. If you don't have the time (or skills!) to install new tile, try one of the many new stick-on varieties. Check out the Best Products site to see an article with some comparisons of the best stick-on tile options out there to help you decide.
Add Some Life with Potted Plants
Potted plants are one of the best ways to spice up a dull and boring bathroom. They can enliven any room, fill it with vibrant colors, and purify the air we breathe. Not only that, but caring for potted plants can be a great hobby or even a form of therapy to help us relax while taking care of something beautiful. Be it succulents, cacti, flowers, or foliage; potted plants come in wide varieties and can make the perfect addition to your bathroom! Going out to buy them from your local nursery is a fun experience in itself, so don't wait another day to spruce up your space with some delightful plant life!
DealDash Updates with Pretty Baskets & Storage Containers
Organize your bathroom with pretty baskets and storage containers. DealDash has some amazing new organizers that are sure to please! Their variety of products have been carefully picked from quality manufacturers, so you know you'll be getting a top-notch product at an affordable price – no matter if you bid or BIN (Buy It Now). Whether it's for the kitchen or bathroom, there are plenty of options for any room in your home. Not only do these baskets and storage containers look great, but they also offer secure organization for all of your bathroom belongings. They come in different sizes, shapes, and colors — giving you lots of choices when finding the perfect fit for your space. WithDealDash, you can always count on getting a great deal that won't break the bank!
Try Art and Fresh Towels and Candles
Trying something new and refreshing is one of the best ways to keep your space vibrant and exciting. Why not dive into a world of art and create a stunning focal point? Unleash your creativity in finding the right colors and aesthetically pleasing pieces that speak to you. And for an added touch of luxury, fresh towels and beautiful candles can instantly transform a room into something that seems straight out of a home decor magazine. When you have art, fresh towels, and candles tastefully placed in your bathroom, it is guaranteed to give you an oasis right in the comfort of your own home.
Thanks for Reading
There are lots of easy and affordable ways to freshen up your bathroom. By painting, adding some greenery, organizing, and hanging art or towels, you can take your bathroom from drab to fab in no time. And don't forget – small changes can have a big impact. So even if you only do one thing on this list, your bathroom will look noticeably different and feel more inviting. Are you planning on any home decorating projects this year? Let us know in the comments. Thanks so much for reading, and remember to check DealDash first when you are shopping for new bathroom and home decor. Have a great day, and happy bidding everyone!
This sponsored DealDash blog article was written by Dawn E, a mother of 3 who loves DealDash. Dawn was compensated for writing this article. Check out Dawn and her cats on Instagram! This blog is written by real DealDash customers. The opinions and advice shared here represent our customers' views and not those of the company.