DealDash is "Staying In" This New Year's Eve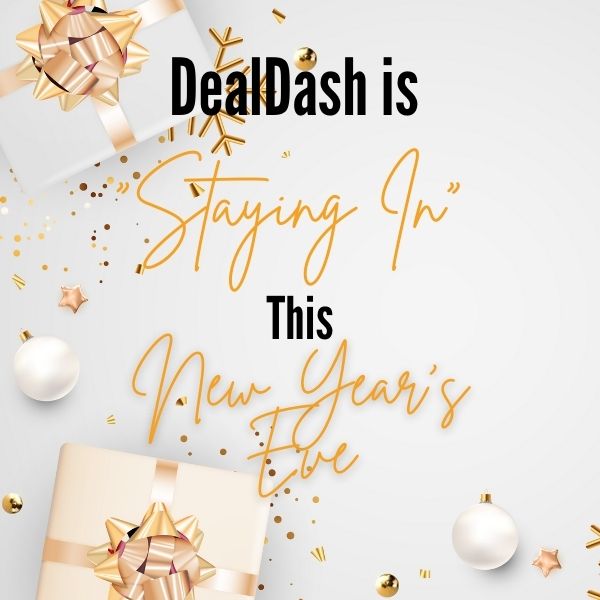 Let's face it – We (most of us!) aren't in college anymore, and just don't party like we used to. If you're considering staying in this New Year's Eve, there are some fun alternatives.
It's that time of year again! New Year's Eve is just around the corner and everyone is getting ready to celebrate. But what if you're not in the mood to go out? No problem! There are plenty of ways to stay in and have a great time. Here are a few ideas from DealDash to help you ring in the new year without leaving your house.
Have a New Year's Movie Marathon
If you're looking for a way to spend your evening, why not have a movie marathon? Dust off your favorite films, order in dinner, grab some popcorn and snacks, and curl up with your cozy blanket. Turn off the lights and grab a beverage then get ready to enjoy a night full of movie magic! When it comes to hosting the most fun movie night ever, don't forget the essentials—good company, lots of laughter, and the perfect snacks. This is sure to be the highlight of your week to cap off 2022.
Make it a Night of Games this New Year's Eve
Make this a night that everyone can enjoy! Get together with friends and family, break out the old-fashioned board games, and settle in for an evening of friendly competition. Not into the classics? Crank up the video game console and challenge one another to a few heated tournaments–may the best player win! With games like Monopoly, Scrabble, and Chess spicing things up along with some intense Super Smash Bros action, you're sure to create lasting memories—and maybe even start a few friendly rivalries. No matter what type of gaming experience you choose for the night, it's sure to be one worth repeating.
Have a Pamper Night – Facials, Manicures, and Pedicures
There's nothing like a pamper night to help you relax and unwind for the final moments of the year. Turn off your phone and take some quality time to focus on yourself. Start by treating yourself to a soothing facial with a gentle, moisturizing cleanser and a face mask of your choice. Follow up with a manicure – feel free to express yourself creatively and get out all the nail polishes you own. Finish your look with a pedicure in the same style as your manicure, so that your hands and feet complement each other perfectly. Put on something cozy, make yourself some hot cocoa, and just enjoy this special moment with yourself. A pamper night can be the perfect way for you to relax while you're waiting to begin 2023.
DealDash Helps With a Fun Night In on New Year's Eve
Finally, no matter how you plan on spending your "night in" this New Year's Eve, DealDash is here to help. Whether you're looking to stock up on snacks and drinks, find the perfect movie-watching essentials, or get your hands on some fun board games and video game consoles, DealDash has it all. One of my favorite items on DealDash right now is the popcorn-popping machine – just like they have at the movie theater! And, since you have read so far, I am going to tell you the secret ingredient to make popcorn that tastes just like the movie theater at home. It's called "Flavacol Butter Salt". Add it while you are using the popcorn maker, and it will come out absolutely delicious every time. You can pick up a carton of Flavacol on the Popcorn Supply Company website.
Thanks for Reading
New Year's Eve is a time to reflect on the past year and set resolutions for the coming one. It's also a great opportunity to spend quality time with your family and friends. If you're looking for ideas on how to make the most of your New Year's Eve at home, DealDash has you covered. From movie marathons to game nights, there are plenty of ways to ring in the new year without leaving the comfort of your own home. So go ahead and get started planning your perfect New Year's Eve – and don't forget to let us know what you'll be doing in the comments. Have a great day, and happy bidding everyone!
This sponsored DealDash blog article was written by Dawn E, a mother of 3 who loves DealDash. Dawn was compensated for writing this article. Check out Dawn and her cats on Instagram! This blog is written by real DealDash customers. The opinions and advice shared here represent our customers' views and not those of the company.