DealDash's Tips for Surviving the Winter Season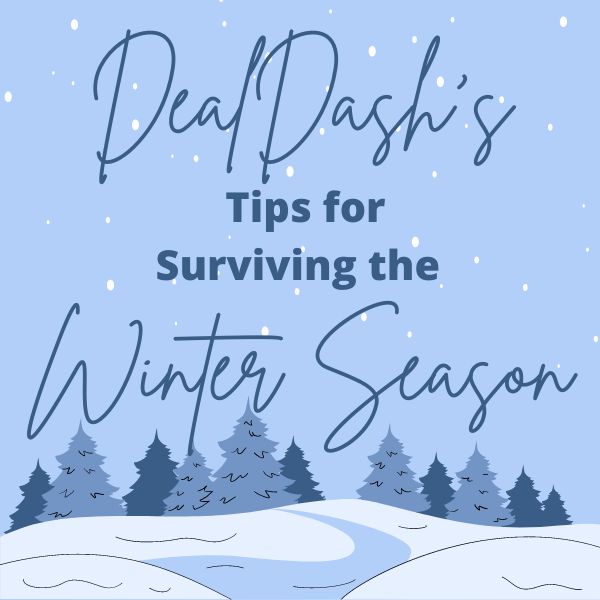 We are now officially snow-deep into the winter season. Not your favorite season? Here are some tips to help you out.
Winter can be a difficult time of year: shorter days, colder temperatures, and an overall feeling of gloominess. But it doesn't have to be so bad. With the right mindset, proper planning, and a few helpful tips, you can make it through winter with your sanity intact! Read on for five ways you can survive the winter season, with a bit of help from DealDash.
Embrace the Winter Season
Embracing the cold of the winter season doesn't have to mean shivering in your home. There are plenty of fun and exciting ways to enjoy the colder months. Bundle up and take a walk around your neighborhood at night and admire the beauty of the snow-covered trees and lights. Also, try to attend one of the many events that take place in winter – from ice skating rinks to holiday festivals. Other activities such as skiing, sledding, snowshoeing, and building a snowman or a snow fort can all be enjoyed with family and friends for hours on end! So don't let the chilliness outside keep you locked indoors this winter. Find some joy out there in these colder months.
Take Care of Yourself This Winter Season
Self-care is important all throughout the year. This is especially true during winter when our mental health can suffer due to lack of sunlight and decreased activity levels. Make time each day to do something just for yourself. Whether reading a book in front of a warm fire or drinking hot cocoa with friends, take some "me time" during this colder season.
Additionally, taking care of your skin during the winter months is especially important. Cold temperatures, dry air, and central heating can all take a toll on your skin, leading to dryness, flaking, and even itchy patches. To ensure that your skin stays healthy and vibrant over the winter, try adding a few extra steps to your daily skincare routine. Invest in some thick moisturizers, cleansing oils, or hydrating masks so that you can lock in moisture and protect your skin from the elements.
Get Creative
Finding new ways to keep busy is key to surviving winter blues. Try out some new hobbies that you've never tried before or explore your creative side with painting classes or photography projects. You'll be amazed at what you can come up with! Additionally, this can be a great way to connect with your kids or grandkids as well.
Stay Connected With Others
Don't forget about connecting with others during this time too! Set up video chats with friends and family who live far away; join an online book club that meets weekly; find a local meetup group for like-minded people; start an outdoor walking club with neighbors – whatever helps you stay connected in whatever way works best for you!
Cultivate Gratitude
Finally, practice gratitude whenever possible by finding small things to appreciate every day—from beautiful snowflakes falling from above to cuddling up in bed when it's cold outside—so that even on those frostier days you can still find some joy and appreciation somewhere within them!
DealDash Can Help You This Winter Season
No matter which of these tips you want to use, DealDash can help! If you want to bundle up and get outside in the chilly weather, you will find all sorts of gear such as coats, boots, and sunglasses.
If the skincare tips are more your speed, DealDash has items for you, too. In the Fashion, Health, and Beauty category, you will find serums, skin exfoliators, and other items to make your skin look and feel wonderful. If you need more winter skin care tips, be sure to visit the Everyday Health site. You will find some excellent ideas to help your skin get through the winter.
Thanks for Reading
As the winter season progresses, take the time to embrace it—get creative and find new ways to keep busy, stay connected with others, and maintain a positive outlook by practicing gratitude. With these five simple steps, you'll be sure to make it through the colder months ahead with your sanity intact!
This sponsored DealDash blog article was written by Dawn E, a mother of 3 who loves DealDash. Dawn was compensated for writing this article. Check out Dawn and her cats on Instagram! This blog is written by real DealDash customers. The opinions and advice shared here represent our customers' views and not those of the company.