DealDash Veggie Garden Game Plan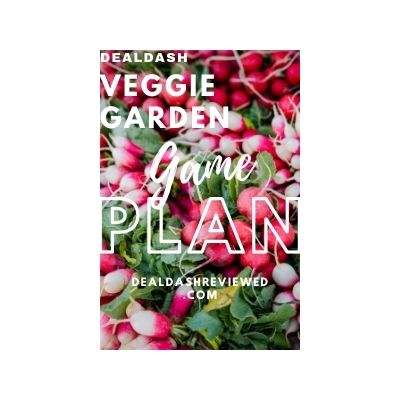 If you're thinking about starting a veggie garden this year you need a game plan. Here are some great veggie suggestions for beginners, from DealDash.
Having a veggie garden is a great hobby for a few different reasons. Planting veggies is not only relaxing and fun, but it can also help you save on your grocery bill. It typically takes awhile for vegetables to grow, so having a game plan in advance is a good idea. Some veggies are better for planting if you are a begginer. If you are new to gardening, the following veggies to plant in your garden are perfect when starting out. Read on for vegetable gardening suggestions from DealDash.
Veggie Game Plan Plants
Radishes
Radishes are very easy to grow and are a versatile veggie that is great for salads, roasted, sauteed, and even in pasta. You can simply plant them directly into the ground or even grow them in containers if you live in a place without a yard. It is a fast-growing veggie, and it is thankfully quite low maintenance. Radishes are a great vegetable to start out with, so they should definitely be part of your game plan this year.
Cucumbers
Cucumbers are a fun crop to grow and tend to grow and ripen fairly quickly. Be sure not to plant cucumbers too early, though, as they are damaged by frost. Aim to start your seeds indoors about 3 weeks before you transfer them out to the garden. Cucumbers are a wonderful veggie and are delicious in so many different ways. Use your cucumbers in salads, of course, but you can also pickle them, use them in sandwiches, and even slice them up and put them into ice water for a lovely and refreshing drink.
Bell Peppers
Bell peppers are easy to grow, but take quite a while to grow (60-90 days), so you will want to start your seeds indoors. Start your seeds about 8 weeks before you transfer them out to the garden. These little guys like the bright summer sun, so be sure they aren't planted in a spot that gets too much shade. Bell peppers are amazing in salads, wonderful cooked and stuffed with cheese and ground beef, and are the perfect summer take-along snack when cut into strips.
No matter what you want to grow, The Old Farmer's Almanac can help. They have an entire gardening tab that can tell you when the best time to plant for your area, frost dates, and tips on the best plants.
DealDash Gardens!
Finally, if you are interested in starting a garden, DealDash has the supplies you need. You'll find practical items such as gardening tool kits and also fun items like solar lights, fountains, and decorations.
Remember, just because you are a beginner with easy-to-grow plants doesn't mean you can't have a beautiful garden. Decorate your garden with items from the Home, Garden, and Tools category and you'll feel like a full-fledged gardener in no time flat.
Thanks for Reading
Growing these veggies is a fun and easy way to begin gardening. These little plant friends will help make your garden colorful and taste delicious. Use this garden game plan and you'll have a bounty of veggies in no time. Thanks so article on veggie gardening for beginners.
Do you need items for your garden? Find lawn and garden items on DealDash and save. Have a great time and happy bidding everyone!
This sponsored DealDash blog article was written by Dawn E, a mother of 3 who loves DealDash. Dawn was compensated for writing this article. Check out Dawn and her cats on Instagram! This blog is written by real DealDash customers. The opinions and advice shared here represent our customers' views and not those of the company.