DealDash Simplifies with Quick Tips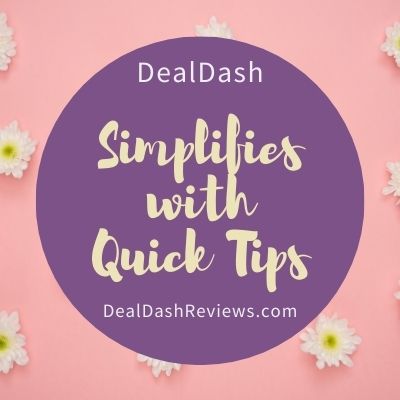 Want to simplify your day-to-day life? Read this article for some quick tips from DealDash to simplify your life.
These days, many people often go through the day wondering where all their t has time has gone. If you are trying to work from home, homeschool your kids, or are an essential worker still going out every day, you are probably exhausted. Here are some very simple tips to help simplify your life, from DealDash.
Quick Tip 1: Reduce Clutter
Firstly, many of us feel exhausted trying to straighten, dust, and tidy so many items and knicknacks around the home. A very quick way to reduce your stress and simplify is by reducing the clutter. Here are some ways you can reduce clutter in 30 minutes or less:
Gather all of your shoes. Set aside any "special event" shoes such as dress shoes/heels that you would wear to an event such as a wedding. Also set aside any seasonal shoes such as snow boots and rain boots. Look at the remaining shoes and toss any that you haven't worn in the past year into the donation box.
Open all of your kitchen cabinets and drawers. Put any utensils, cups, plates, and storage containers that you haven't used in the past year into the donation box. Feel free to exclude any "special use" items such as a turkey platter. However, those 7 unmatched cups you have gotten for free at various events? Donate 'em if you haven't been using them.
Open your bathroom cabinets and drawers. Find any expired products, leaking or dirty products, or any items that you haven't used in the past year. Toss them out.
Quick Tip 2: Simplify Your Inbox
Next, are you the type of person who has 1,276 emails in your inbox? You don't need all of those! Use your search function and find all of the emails in your inbox that are 3+ months old. Out of those, quickly look through and find any that are definite junk, like expired coupon codes, invitations to Zoom meetings that have already passed, etc.
Now that you have gotten rid of the junk mail (probably 75% of them!), take a closer look at the remaining emails and save/archive any that are important to you such as emails from friends or relatives, emails you need to save for work, etc. After you have saved the important ones, take a peek at what's left. Create a new folder, put these remaining emails inside, and label the folder with a date that is 3 months into the future. If you haven't looked at them again by the time the date arrives, you probably don't need them.
Quick Tip 3: : Let DealDash Help
Finally, take a look around your home. Do you have groups of similar items that could be replaced with a better, more comprehensive version? For example, do you have a digital camera, a camcorder, etc? These items are taking up space and can be replaced with a better, modern version. DealDash has some top-of-the-line modern digital camera/camcorders that are great for content creators such as vloggers and bloggers as well as people who just want to create family memories.
Also, you might want to re-visit your de-cluttered kitchen. Do you have separate choppers, blenders, and hand mixers? Depending on how much cooking and baking you do, you might be able to replace some or all of these items with a high-quality food processor.
If you would like to learn how to reduce the clutter on your kitchen counters, I have good news for you! The Simply Organized Home has a great article with some simple and quick tips to help.
Thanks for Reading
Keep these quick tips in mind the next time that you are trying to simplify your life. These things just may be the boost you need to get organized and simplify. Thanks so much for reading this DealDash article.
Do you need electronics or kitchen items? Simplify, reduce, and reuse and feel great about donating items and reducing clutter. Have a great time on DealDash and happy bidding everyone!
This sponsored DealDash blog article was written by Dawn E, a mother of 3 who loves DealDash. Dawn was compensated for writing this article. Check out Dawn and her cats on Instagram! This blog is written by real DealDash customers. The opinions and advice shared here represent our customers' views and not those of the company.