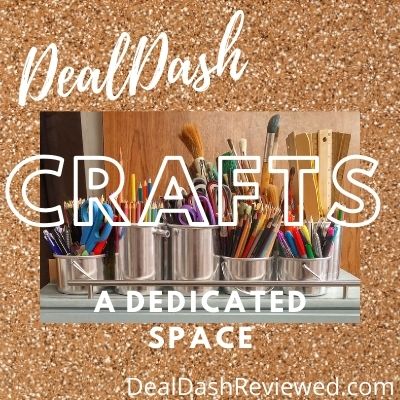 Do you love crafting? You should have a dedicated space in your home. DealDash can help you make your thoughts and inspirations a reality. Read on for some suggestions.
If you consider yourself a serious crafter, you need to have a craft room – or at least a dedicated space. If you do not have space for a full-fledged craft room, it's not a problem, simply establish a small space in your home to call your craft area. DealDash has some suggestions for making a dedicated craft space.
Find a Dedicated Space
Firstly, you need to choose where your new craft space will be. Having a whole room is ideal, of course. However, many people don't have an extra room in their house that they aren't using, so the second-best would be to find a room that you can share. A room that would be best to share with a craft room is an office, a guest room, or a walk-in closet. No matter where you choose for your dedicated craft space, it will be much better than having to pack up all of your supplies each time.
Things Your Dedicated Space Should Include
Next, your dedicated space for crafting needs to include a few things that are non-negotiable. These three things are light, an outlet, and a table or surface. Obviously, you need light. However, how much light depends on the types of crafts you do. Just about every type of craft needs to have something plugged in, so an outlet is needed. If you do crafts with water, then a GFCI outlet is recommended. Finally, most crafts need a table or other flat surface to work on. However, if you are a knitter, then this might not be as important.
There are other items that are important but not essential, and these include shelving, cabinets, drawers, and extra storage. When planning your dedicated space for crafting, personalizing it to your craft is key. If you are a fan of repurposing items, The Budget Decorator site has an article with some wonderful suggestions for repurposing items.
DealDash Helps With Storage
Finally, depending on where you have chosen to put your dedicated space for crafting, you might need a lot of storage. Most crafts benefit from having shelving, baskets, totes, racks, containers, and more.
What types of crafts do you enjoy? Sewing involves many tiny pieces, from needles, pins, thread, while scrapbooking uses stickers, staples, markers, etc. Be sure to stock up on storage tubs for your tiny supplies. Your set-up will look more professional if you label all of your supplies with a label maker.
DealDash has different types of storage and containers for all of your craft supplies. Whether you need shelves, baskets, or bins, you will find them on DealDash. Be sure to visit the Home, Garden, and Tools category today.
Thanks for Reading
Thanks very much for reading this article on creating a dedicated space for your craft room. I think that you will find that when you have a space for your crafting you will not only enjoy it more, but also produce better crafts. Be sure to check back here next week for more fun and informational articles.
This sponsored DealDash blog article was written by Dawn E, a mother of 3 who loves DealDash. Dawn was compensated for writing this article. Check out Dawn and her cats on Instagram! This blog is written by real DealDash customers. The opinions and advice shared here represent our customers' views and not those of the company.