DealDash Cleans – Spring Cleaning Time!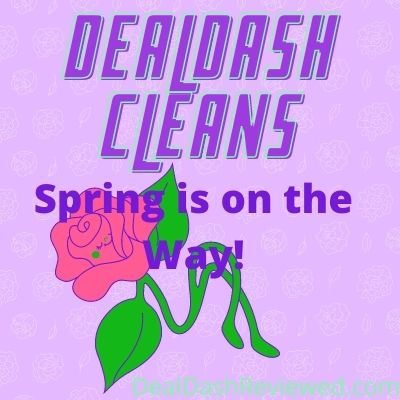 It might not feel like it quite yet – but spring is on the way! Spring cleaning is the perfect way to celebrate the change of seasons. Let DealDash help you make a plan for cleaning up.
The weather might still feel chilly, but it is slowly warming up. Daylight Savings Time is coming soon, on March 14th at 2 AM. You'll have an extra hour of sun, and everything will be so much brighter after you give the house a good spring cleaning. DealDash has some suggestions for making your spring cleaning plans. Read on for some cleaning suggestions.
(Please) Clean Your Mattress
First on your spring cleaning plan should be giving all of the mattresses in the house a good cleaning. Begin by removing all of the blankets, pillows, and sheets. These will all need to be laundered. I find that washing two pillows in the washing machine at a time creates a nice balance, so you won't hear a "thump thump thump" when they are washing. Be sure to check all of your pillows and blankets for the proper setting on the washing machine to use.
While the bedding is washing, it's paramount that you vacuum the mattress. Additionally, I like to use a steam cleaner on the mattresses in my home. You will need to do this task as early in the day as possible, as it takes a few hours for the mattress to be completely dry after steam cleaning. As with the pillows, be sure to check the tag on your mattress for cleaning instructions.
Spring Cleaning Carpets and Rugs
Next, another important item that might be neglected around the house is your carpets and also your rugs. Giving your carpets and rugs a good cleaning is very important when you are spring cleaning. Throughout the year there are spills and dirt that can occur that might not be easily vacuumed up. You will want to begin by giving them a very thorough vacuuming.
I don't know about you, but since I vacuum every (or every 2nd!) day, it tends to be a very quick chore. I don't get every square inch and probably miss a few crumbs here and there. It's not a big deal, since I know that I will be vacuuming the next day, anyway. However, during this carpet and rug vacuuming, be very meticulous. After you have done a thorough vacuum, you will want to check each and every bit to make sure there are no stains that need to be cleaned. If there are, then you will want to get a rug "spot cleaner", and follow the directions on the container.
Finally, if you have (or want to rent) a carpet steam cleaner, then spring cleaning is a perfect time! The website Simply Designing has an article that will give you the step-by-step carpet cleaning directions you need to make your endeavor a success.
Spring Cleaning Items on DealDash
Finally, you will be relieved to know that DealDash has excellent items for spring cleaning. Are you in the market for a vacuum, either classic or robotic? You will find these as well as robot mops and pressure washers. This is the place to shop for cleaning items! You will also get free shipping on the item, no matter if you won it or used the Buy It Now (BIN) feature.
Thanks for Reading
Thanks so much for reading this new article on spring cleaning. Springtime is a peaceful and happy time, and perfect to make your home beautiful. These suggestions will help you keep your home clean and refreshed from the winter grime. Follow these suggestions, and you will enjoy a sparkling clean home this spring.
Do you need a robot vacuum? Go check DealDash for cleaning items such as classic and robot vacuums, pressure washers, and more. Have a great time on DealDash and happy bidding everyone!
This sponsored DealDash blog article was written by Dawn E, a mother of 3 who loves DealDash. Dawn was compensated for writing this article. Check out Dawn and her cats on Instagram! This blog is written by real DealDash customers. The opinions and advice shared here represent our customers' views and not those of the company.