DealDash Sneaky Exercise Tips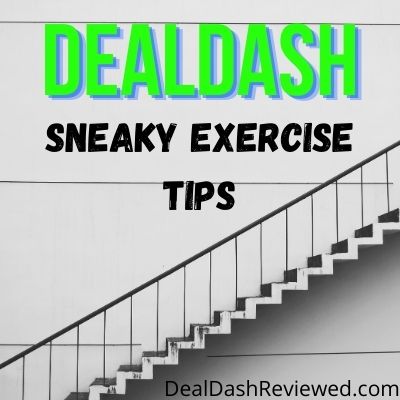 Warmer weather is on its way, and that means shorts and bathing suits. If you're worried about those few extra pounds, this DealDash article with a few sneaky exercise tips is for you.
Have you been worried about those extra pounds that you have gained during the winter? Do you just not have enough time in the day to get in a full workout? Don't worry, with these sneaky exercise tips you will be able to burn extra calories daily. And as we all know, a little each day can add up! Here are a few simple tips, from DealDash.
Sneaky Exercise Tip 1 – Stairs
First, this tip is an oldie but a goodie – always take the stairs when you have an option. Of course, this only burns a few calories at a time, but if you do this multiple times per day, every day, then it will add up. Additionally, if you can fit in a
few extra times up and down the steps each day, then you will burn even more calories. You don't need a fancy gym stair stepper machine, just use the regular stairs at home or work.
Sneaky Exercise Tip 2 – Dogs
Next, everyone who adopted a "Covid Pet", raise your hand! If you adopted a dog during quarantine, you are ahead of the game. Your dog doesn't care if you are tired or feeling lazy – it needs to go for a walk. Now that the warmer weather is here, there's no excuse for you not to take your pup out for a nice walk. If you didn't get a dog, but you have been thinking about it, you should read this article from Oprah Magazine called "Should I Get a Dog".
Sneaky Exercise Tip 3 – Fun
Next, exercise doesn't have to be boring! Many people dread exercising because they picture packing a gym bag, driving to the gym, using sweaty gym equipment that other people have been using – yuck! That doesn't sound like fun. However, the key to enjoying exercise is to make it fun! You can get an excellent and fun workout by playing basketball in the driveway with your family, taking a ride on the local bike path, or a walk on the beach.
DealDash Can Help
Finally, if you want to put in some extra time on exercise at home, DealDash can help. Adding in more exercise at home can be done with a few supplies such as workout clothes or an exercise bike. You can find these items and more in the Hobbies, Toys, Outdoors, and Games category. Remember, if you don't win the auction for any item, you can use the "Buy It Now" button that's listed on every auction, and pay the price listed. Then you will receive all of the bids back that you used on that auction to use again!
Thanks for Reading
Fitting in a little extra exercise with these sneaky tips is easy. Doing a few things like this every day will really add up. Thanks so much for reading this article on exercise and fitness. Do you want new gym and fitness items? DealDash has workout clothing, home gym items, and sports equipment. Visit now to see how much you can save. Have a great time and happy bidding everyone!
This sponsored DealDash blog article was written by Dawn E, a mother of 3 who loves DealDash. Dawn was compensated for writing this article. Check out Dawn and her cats on Instagram! This blog is written by real DealDash customers. The opinions and advice shared here represent our customers' views and not those of the company.