DealDash's "Make a Halloween Costume" Tips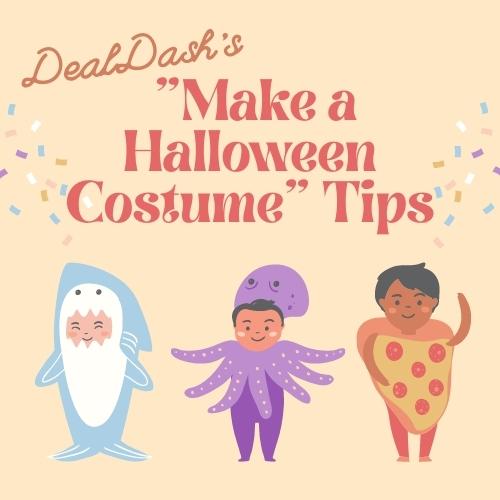 The smell of pumpkin spice is in the air – that means that Halloween will be here before you know it. Costumes can be expensive, so why not make one yourself?
Are you looking for ideas on how to make a Halloween costume this year? Do you want to avoid the hassle and expense of buying a costume from a store? If so, then you need to read this article. In this blog post, we will provide you with tips and tricks on how to make your (or your child's) very own Halloween costume. We'll cover everything from prepping to crafting, so read on for some helpful advice from DealDash.
Gather Your Halloween Costume Supplies
One of the most important things to do when preparing to make a Halloween costume is to gather all the supplies you will need. This includes things like fabric, scissors, glue, and any other materials you think you might need. It's better to have too many supplies than not enough, so err on the side of caution. Once you have all of your supplies, it's time to start crafting your costume.
There are many different ways to make a Halloween costume. You can sew one from scratch, or put one together using items that you already have in your closet. If you're feeling creative, you could even try making a no-sew costume using duct tape or safety pins. No matter how you choose to make your costume, the most important thing is that you have fun with it.
Get Creative With Your Halloween Costume
One of the best parts about making your Halloween costume is that you can be as creative as possible. There are no limits to what you can create, so let your imagination run wild. If you need some inspiration, take a look at some of the costumes that other people have made. You can find plenty of ideas online or in magazines. Once you have an idea of what you want to make, it's time to start putting your costume together.
Quick Halloween Costume Tips
If you're short on time, there are a few quick and easy Halloween costume ideas that you can put together in a matter of minutes. For example, you could dress up as a ghost by wearing all white and draping a sheet over your head. Or, you could be a zombie by applying some fake blood and makeup. If you want to be something a little more unique, try dressing up as your favorite book character or TV show.
For a huge list of costumes that you can easily make at home, check out Reader's Digest. They have an article with 100 ideas for costumes you can make quickly and easily.
DealDash Has Halloween Supplies
Making your own Halloween costume is a great way to save money and have some fun. So get creative and start crafting your perfect costume today. And remember, if you need any supplies for Halloween decorations, be sure to check out DealDash first. You will find spooky inflatables, fog machines, and even some pre-made costumes for the less-crafty among us.
Thanks for Reading
Making a Halloween costume is a great way to save money and get into the holiday spirit. With a little bit of creativity and effort, you can make a costume that is unique and will be sure to turn heads. Use the tips and advice from DealDash to help you make the perfect Halloween costume this year. And if you need Halloween decorations for your yard, visit DealDash for huge inflatables and fog machines to make things extra spooky. Have a great day and happy bidding everyone!
This sponsored DealDash blog article was written by Dawn E, a mother of 3 who loves DealDash. Dawn was compensated for writing this article. Check out Dawn and her cats on Instagram! This blog is written by real DealDash customers. The opinions and advice shared here represent our customers' views and not those of the company.