DealDash Gets Happy: Tips to Make Yourself Smile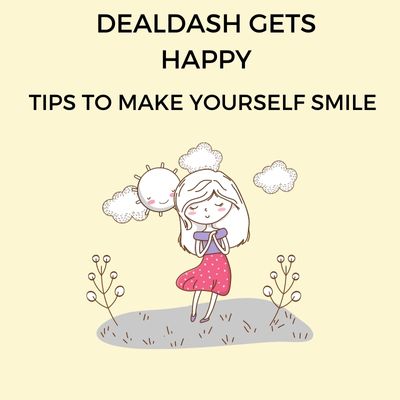 The summer is here, the flowers are in bloom – it's the perfect time to get happy! Need some tips?
When was the last time you had a good laugh? Or when was the last time you smiled for no reason? It's probably been a while, right? Most of us are so busy with work and our everyday lives that we forget to take some time for ourselves. In this blog post, we will discuss some simple things that you can do to make yourself happier. These tips are easy to follow and don't require much effort, so there's no excuse not to try them out!
Smile to Put Yourself in a Happy Mood
First, one of the simplest things you can do to make yourself happier is to smile more. Smiling has been shown to reduce stress, lower blood pressure, and boost your immune system. So next time you're feeling down, take a moment to smile at yourself in the mirror or at a loved one. Have you ever heard of "fake it 'til you make it"? It totally applies here, and it'll make you feel better in no time.
Positive People are Happy People
Next, another easy way to boost your happiness is by spending time with positive people. Surrounding yourself with individuals who are happy and optimistic will rub off on you and eventually put you in a better mood. So if you're feeling low, reach out to a friend or family member who always makes you feel good. Also, spending time with them is guaranteed to lift your spirits.
Love Yourself, Be Happy
Finally, don't forget to show yourself some love. Treating yourself to a nice meal, buying yourself a new outfit, or taking yourself on a vacation are all great ways to make yourself happy. You deserve it! If you are running a little low on cash, you can either save up or show yourself some love on a budget. Making a nice meal, buying a new accessory that complements an outfit you already have, or taking a short road trip can improve your happiness, too!
Want to make yourself a little happier in 30 seconds? Check out this article from Psychology today and see if any of the suggestions appeal to you.
DealDash Makes You Happy
In addition to following these tips, using DealDash can also help improve your mood. Shopping for great deals and participating in auctions is a fun way to pass the time, and it's even better when you get a great deal on something you really wanted. So next time you're feeling down, hop on DealDash and start bidding. Who knows, you might just find your new favorite thing.
Be sure to browse the New Items category to see what's fresh! Right now, you will find a soft-serve ice cream maker, a gaming mouse, and even new "Discovery Box" mystery bundles.
Thanks for Reading
So there you have it, a few easy tips that you can use to improve your mood and make yourself happier. Give them a try and see how they work for you. We hope this blog post has given you some ideas of things that you can do to make yourself happier. Remember, it doesn't take much to put a smile on your face. Just follow these simple tips and tricks and you'll be well on your way to a better mood in no time!
Thanks for reading this blog post from DealDash. Be sure to check out the new items available this summer. Have a great day, and happy bidding everyone.
Have any other tips that always cheer you up? We'd love to hear them in the comments below!
This sponsored DealDash blog article was written by Dawn E, a mother of 3 who loves DealDash. Dawn was compensated for writing this article. Check out Dawn and her cats on Instagram! This blog is written by real DealDash customers. The opinions and advice shared here represent our customers' views and not those of the company.