DealDash Low-Effort Meals: No Oven Required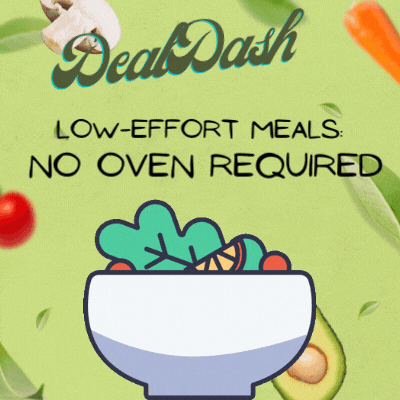 No one wants to spend lots of time in a hot kitchen in the summer. The weather is hot, keep cool this summer and eat delicious meals.
In the summertime, who wants to turn on their oven? Not me! That's why I'm going to share some of my favorite low-effort meals that don't require a lot of cooking. These suggestions are perfect for hot summer days when you don't want to heat up your kitchen. So, whether you're looking for a quick and easy dinner or something to take with you on the go, DealDash is here to help.
Low-Effort Meal – Pasta Salad
One of my favorite no-cook meals is a simple pasta salad. You can make this ahead of time and it's perfect for a hot summer day. To make a basic pasta salad, you will need:
-A box of your favorite pasta (personally, I like mini shells!)
-Some vegetables (I like to use cherry tomatoes, cucumbers, and red peppers)
-A bottle of your favorite dressing
Cook the pasta according to the package directions. Once it's cooked, drain it and let it cool. Then, add in the chopped vegetables and dressing. Mix everything together and put it in the fridge to chill. This meal is perfect for lunch or dinner, and you can easily take it with you on the go.
Low-Effort Meal – Veggie Wrap
Another great low-effort meal is a simple veggie wrap. This is another meal you can make ahead of time and is ideal for a hot day in the summer. To make a veggie wrap, you will need:
-A whole wheat tortilla (or your favorite type – tomato, veggie, etc)
-Some vegetables – I like to use lettuce, tomatoes, cucumbers, and red peppers
-A Spread – hummus or guacamole are both great options
Place the tortilla on a plate and spread on your chosen spread. Then add the chopped vegetables. Roll up the tortilla and enjoy! This veggie wrap is ideal for lunch or dinner, and it's easy to eat on the go.
Looking for more low-effort meals this summer? The site Sweet Peas and Saffron have some great ideas in their articles. Check out their low-effort meals today.
DealDash Has Kitchen Supplies
If your kitchen is lacking a few supplies, DealDash can help. No matter what you're making for dinner, plenty of kitchen items are up for bid. And with DealDash, you can get them for a great price! So don't wait – start shopping for cooking supplies today. Whether you're shopping for a kitchen gadget set, a stainless steel bowl set (with lids!), or even an ice cream maker, DealDash has you covered.
Thanks for Reading
I hope that this blog post has inspired you to try some new low-effort meals. No one wants to spend hours in the kitchen during the summer, so these recipes are perfect for those hot days. And don't forget, if your kitchen lacks a few supplies such as a knife set or cutting boards, DealDash can help. Thanks so much for reading, and have a wonderful day! Happy bidding everyone!