DealDash's Ultimate Packing List for Vacation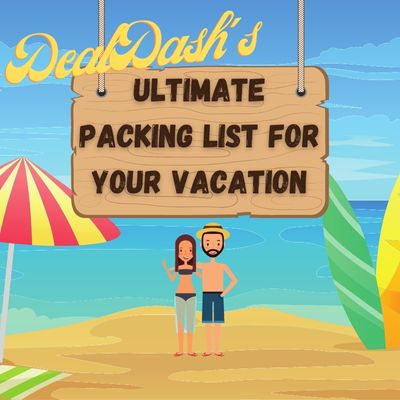 It's vacation time again! I'm so excited to finally be able to travel again, are you?
Are you packing for vacation? Make sure you don't forget these essentials! DealDash has put together a comprehensive packing list to make sure you have everything you need for a relaxing and enjoyable trip. From clothes to toiletries, we've got you covered. So don't stress about packing – just follow our guide and you'll be ready to go!
Clothing Packing Tips
Of course, you'll need to pack clothes for your trip! Depending on where you're going and what you'll be doing, you'll want to pack a mix of casual and dressy clothes. If you're unsure, err on the side of packing too many rather than too few clothes. By rolling up your clothing instead of folding them, not only will you be able to fit more, but it will also minimize wrinkles.
Shoes
Again, depending on your destination and activities, you'll want to pack a variety of shoes. Make sure to pack at least one pair of comfortable walking shoes – you'll be glad you did when exploring a new city or hiking through beautiful scenery.
Accessories
Don't forget to pack your jewelry, belts, and other accessories! They can really help to dress up an outfit and make you feel more put-together. If you're going somewhere you will be outdoors a lot, be sure to pack a hat, too.
Toiletry Packing Tips
Don't forget to pack your toothbrush, toothpaste, deodorant, and any other toiletries you need. If you're traveling carry-on only, be sure to check the TSA website for a list of approved liquids and gels as well as their sizes.
Medications
If you take any prescription medications, be sure to pack them in your carry-on bag so you have them with you at all times. You'll also want to bring along any over-the-counter medications that you might need, such as pain relievers or allergy medication.
Small First Aid Kit
A small first aid kit is always a good idea, especially if you're traveling with kids. Be sure to pack bandaids, antiseptic wipes, Neosporin, and any other items that you might need in case of minor injuries.
Electronics and Cords
If you're bringing along any electronics, such as a laptop or camera, don't forget the chargers! It's also a good idea to pack a portable charger in case you're ever stuck without a power outlet.
Documents List
Don't forget to pack your passport (if necessary) and any other important documents, such as tickets or reservations. It's also a good idea to make copies of your important documents in case you lose them while on vacation.
DealDash Has Luggage and Travel Supplies
If you need any travel supplies, such as luggage or a small backpack, be sure to check DealDash first. You'll find great deals on all the travel essentials that you need to make packing a breeze.
One of my favorite travel items that DealDash offers is suitcase organization bags. I always use these when I go on my trips. It makes it much easier to keep track of your items. Also, if you are sharing a suitcase (or making your kids share one!) then these organization bags are absolutely essential to keep everyone's items together.
Thanks for Reading
Packing for vacation doesn't have to be stressful. With this packing list, you'll be sure to have everything you need for a fun and stress-free vacation. So what are you waiting for? Start packing! And when you're ready to shop for great deals on travel gear and luggage, remember DealDash. Thanks so much for reading, and happy bidding, everyone!
This sponsored DealDash blog article was written by Dawn E, a mother of 3 who loves DealDash. Dawn was compensated for writing this article. Check out Dawn and her cats on Instagram! This blog is written by real DealDash customers. The opinions and advice shared here represent our customers' views and not those of the company.