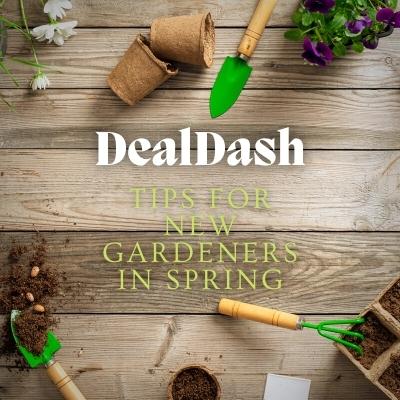 We are solidly "planted" into spring now, let's get gardening! See what I did there? Let's go!
If you're just starting out in gardening, the springtime is a great time to get started! There are some things you should keep in mind as you begin planting, and we're here to help. In this blog post, we will discuss some tips for new gardeners that will help them have a successful gardening experience in the springtime. Read on for some tips from DealDash for new gardeners.
New Gardeners Should Begin Slowly
First off, one of the most important things to remember when gardening in the springtime is to start slow. Don't try to plant everything at once, or you will quickly become overwhelmed. Start with a small area and gradually add more
plants as you become more comfortable with gardening. However, to be honest, this isn't just a tip for new gardeners, this applies to just about everyone who has a busy life. Also, if you don't have a ton of time, be sure not to plant more things than you are prepared to nurture this spring.
New Gardeners, Pay Attention to the Forecast
Next, another important tip for new gardeners is to pay attention to the weather forecast. Spring weather can be very unpredictable, and you don't want to be caught off guard by a sudden cold snap or heatwave. Always be sure to check the forecast before you plant so that you can plan accordingly. However, seasoned gardeners not only pay attention to the forecast but also consult the Farmer's Almanac.
If you aren't familiar with the Farmer's Almanac, it's not just for farmers! You can get information about gardening, fishing, Earth conservation, and more. Check out their website for some free information.
Have Fun With It! DealDash Can Help
Finally, don't forget to have fun! Gardening should be enjoyable, so make sure to take some time out of your busy schedule to relax and enjoy your garden. One of the best things about gardening is that it's a great way to de-stress and get some fresh air. Additionally, if you find yourself getting too stressed out, take a break and come back to it later.
One of the fun things about gardening is using its beauty to decorate your yard. Why not highlight your garden by using some items from DealDash to spice it up? You will find traditional gardening supplies on DealDash such as hoses and hand tools, but you can even find landscape lighting! Take a peek at garden pathway lights, in-ground garden lights, and even bundles with both types. Also, don't forget to check out the lawn and landscaping items, too.
Thanks for Reading
We hope that you found these tips for new gardeners helpful! Springtime is a great time to get started in gardening, so we encourage you to give it a try. Visit DealDash for all of your gardening needs.
Thanks so much for reading this article on gardening in the spring. New gardeners should remember to start slowly, pay attention to the forecast, and have fun with it! These are important tips that will help them have a successful spring gardening experience. Also, be sure to have a great day and happy bidding everyone!
This sponsored DealDash blog article was written by Dawn E, a mother of 3 who loves DealDash. Dawn was compensated for writing this article. Check out Dawn and her cats on Instagram! This blog is written by real DealDash customers. The opinions and advice shared here represent our customers' views and not those of the company.