DealDash Upgrades Your Home Office: Refresh & Tidy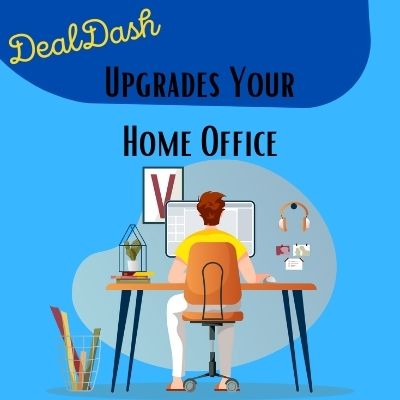 We all got a lot of use out of our home offices these past few years. Maybe it's time for a refresh?
When was the last time you gave your home office a good refresh? If it's been a while, now might be the perfect time to do so! In this blog post, we will give you some tips on how to upgrade your home office without spending too much money. We'll also share some tips on how to keep it tidy and organized. Let's get started with these helpful suggestions from DealDash.
Declutter Your Home Office
One of the first things that you should do when refreshing your home office is to declutter. Get rid of any old papers or knick-knacks that you don't need anymore. This will help to clear up some space so that you can focus on the task at hand. If you have a lot of items, consider investing in some storage solutions like baskets or bins. This will help to keep your space organized and tidy.
Need some handy tips for decluttering? The Apartment Therapy site has some excellent suggestions for you on their site, check out this article.
Invest in Some New Home Office Supplies
If you're looking to upgrade your home office, one of the best things that you can do is invest in some new supplies. This could be anything from a new printer to some stylish desk accessories. You don't have to spend a lot of money to make a big impact. Just a few small changes can really refresh your space. After you have finished decluttering and tidying, think of what would make your office more comfortable. Make a wish list and see how many things you can find at a reasonable price.
DealDash Has Everything That You Need
If you're not sure where to start when it comes to upgrading your home office, DealDash has everything that you need. We have a wide selection of items that are perfect for any office, including speakers, desks, chairs, and more. We also have a variety of storage solutions to help you keep your space organized. So, what are you waiting for? Start shopping today!
Thanks So Much for Reading
Thanks so much for reading this article. We hope that this blog post has given you some helpful tips on how to upgrade your home office. Remember, just a few small changes can make a big difference. And if you're not sure where to start, head over to DealDash and check out our selection of home office supplies. Happy a great day, and happy bidding everyone!
This sponsored DealDash blog article was written by Dawn E, a mother of 3 who loves DealDash. Dawn was compensated for writing this article. Check out Dawn and her cats on Instagram! This blog is written by real DealDash customers. The opinions and advice shared here represent our customers' views and not those of the company.