DealDash Spring! New Items Up for Bid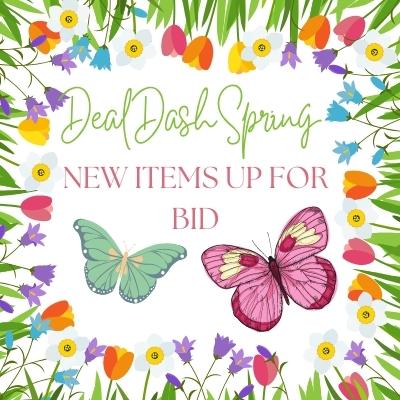 If there is one attribute that you can use to describe all DealDash bidders is that they love new item choices!
DealDash is constantly updating their inventory with new and exciting items. If you're curious about what's coming up in the next few auctions, then read on! In this article, we'll discuss some of the new items that will be available for bidding soon. You won't want to miss out on these deals, so be sure to "bookmark" these items or even set a BidBuddy.
New Item Choices for Spring
First off, DealDash gives you a lot of different options when it comes to choosing the perfect item to bid on. Also, there's always something for everyone, new items are being added all the time. Here are some of the latest and greatest items that will be available in upcoming auctions:
–Combination robotic vacuum/mop that has an auto-empty feature
–Dyson Supersonic hair dryer – I have one of these babies, and you will never go back to a regular hair dryer after using this one. Also, if you are interested in learning some new hairstyle tips using the Supersonic, check out these videos from Dyson.
– Handcrafted chess set – made by local craftsmen in India using mango wood and carved aluminum with plated nickel
–Cars, cars, cars! Okay, so maybe cars aren't really a "new" item that's offered, but it's always exciting to see a new car being auctioned off on DealDash!
As you can see, there's something for everyone on DealDash. Whether you're looking for a new item that you've never seen on DealDash, or just want to snag a great deal on an old standby, you'll be sure to find what you're looking for. So what are you waiting for? Get bidding!
Use DealDash Tools to Win Auctions
So, now that you know what new items are being offered on DealDash, you probably have your eye on something special. There are a couple of ways that you can use the tools that DealDash offers to help you win items.
First – the Bookmarking tool can help you remember when an item is coming up for bid. Simply click the little star in the top right corner of any auction. This will save the auction for you on your homepage.
Second – the next tool that you need to use is the BidBuddy. The Bid Buddy is offered on all auctions and is located on each auction's page. Just click in the Bid Buddy's box, tell him how many of your bids you would like to use, and click the "Book BidBuddy" button.
Thanks for Reading
I hope that this article has helped you to become more familiar with some of the new items being offered on DealDash. Be sure to check back often for more articles like this one. Now go win yourself some great auctions! Do you have any suggestions for future blog posts? Let us know in a comment below.
Also, if this is your first time visiting the site, be sure to check out our Help section. Learn all about how DealDash works and how you can get started winning auctions. You can also read our blog for more informative articles like this one.
Do you have any items that you're hoping to see on DealDash soon? Let us know in the comments below, we love hearing from our readers! Until next time, happy bidding everyone!
This sponsored DealDash blog article was written by Dawn E, a mother of 3 who loves DealDash. Dawn was compensated for writing this article. Check out Dawn and her cats on Instagram! This blog is written by real DealDash customers. The opinions and advice shared here represent our customers' views and not those of the company.