DealDash Spring Clothing: Transition Your Wardrobe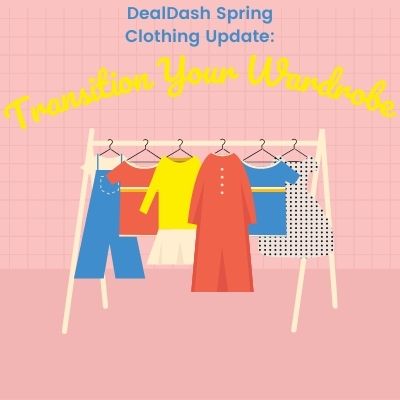 The weather is finally getting warmer here. I think it's time to put away the winter clothing for spring and summer items!
It's finally Spring! The weather is getting warmer and the trees are starting to bloom. This is the perfect time to update your wardrobe for the new season. If you're like most people, you probably have a lot of winter clothes that you need to get rid of. In this blog post, we will give you some tips on how to transition your wardrobe from winter to spring and summer items. Also, stay tuned for more upcoming blog posts on seasonal fashion trends, from DealDash.
Spring Clothing Clean Out
First, you need to do a little Spring cleaning. Go through your closet and get rid of anything that you haven't worn in the past year. If you're not sure what to get rid of, ask a friend or family member for their opinion. Once you have cleaned
out your closet, it's time to start adding some new spring and summer clothes from your storage. You might even want to buy a few new things, too!
A great way to update your wardrobe without spending a lot of money is to shop at consignment stores or thrift shops. You can find some really great deals on clothing this way. Another option is to take some items from last year's wardrobe and mix them up with new pieces. For example, if you have a pair of jeans that you love but are starting to look a little worn, pair them with a new blouse or jacket. This will give your outfit a whole new look.
However, if you're not sure how to get started, you might need a little help. The site Vintage Life has a great article with some tips to get started on becoming an excellent thrifting master.
Accessorize Your Spring Clothing (DealDash Has Great Pieces)
Next, don't forget to accessorize! Spring and summer are the perfect seasons to break out the jewelry, scarves, and hats. Adding a few accessories to your outfit can really make it pop.
The great news is that DealDash can help with these items as well! We have a wide selection of jewelry, scarves, and hats to choose from. So be sure to check us out before you start your shopping anywhere else.
Thanks for Reading
We hope you enjoyed this blog post about updating your wardrobe for spring. Stay tuned for more fashion tips and trends from DealDash. Do you have any tips for updating your wardrobe for spring? Share them with us in the comments below.
If you enjoyed this blog post, be sure to check out our other blog posts on fashion and style. You can also find more great deals on clothing and accessories by visiting DealDash.
This sponsored DealDash blog article was written by Dawn E, a mother of 3 who loves DealDash. Dawn was compensated for writing this article. Check out Dawn and her cats on Instagram! This blog is written by real DealDash customers. The opinions and advice shared here represent our customers' views and not those of the company.