DealDash April Vacation 2022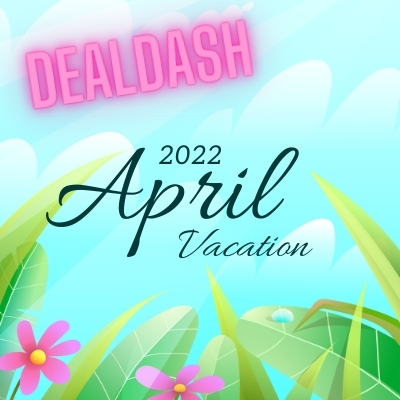 April vacation is upon us! Wondering what to do with your extra time this month?
What are you most looking forward to about spring break? For me, it's all the family time. We'll be able to take a much-needed vacation from our hectic lives and enjoy some quality bonding time outside with friends or loved ones! However, don't forget that there's plenty of imagination left in store for us while we're off work this year too: think outdoor toys instead of electronic ones; movies under blankets at night (or day); cooking delicious meals together…The list goes on indefinitely. So, here are a few suggestions on how to use your April vacation wisely, from DealDash.
April Vacation Outdoors
Just for starters, have you been waiting all winter for spring to arrive so that your kids can go outside and play? It is finally time! Also, make sure not to miss out on any opportunities this season by checking with local rules and regulations first before telling the kids. So, depending on where you are, things in your town might still have limited hours or be shut
down altogether. Be sure to take advantage of these warm days and explore your local playgrounds, hiking trails, and lakes with your family.
Additionally, the past few years have taken a toll on many people's budgets. If you are trying to live frugally nowadays, that doesn't mean that you have to skip the fun. The site Family Destinations Guide has an article with 22 ideas for kid-friendly activities on a budget.
Pick Up a Hobby – DealDash Can Help
Next, if you are tired of the same old stuff, day in and day out, maybe it's time to pick up a new family hobby. April vacation is the perfect time to start a new hobby as a family. There are so many fun activities that everyone can enjoy and it's a great way to bond with your loved ones. What sort of hobby depends on you and your family, of course, but here are a few ideas that might get your ideas flowing.
Take up hiking or biking together and explore the great outdoors.
Learn to cook new recipes from different cultures.
Head to the batting cages or the driving range and work on your swings.
Play tourist for the day and visit all the landmarks and museums in your city.
Get crafty and make homemade gifts for friends and family.
Finally, there are endless possibilities when it comes to starting a new hobby, so use your imagination and have fun! The great news is that DealDash can help you and your family cultivate a new hobby. Once you have decided on your new hobby, head on over to DealDash. You will find things like fishing bundles, chess sets, tents, and even a go-kart! Most importantly, no matter what hobby your family is interested in starting, DealDash can help.
Thanks for Reading, Enjoy Your April Vacation!
In conclusion, April vacation is fun for everyone, kids and adults alike. I hope this article has given you some ideas on how to help your family have fun this year. Make the most of April vacation by using the suggestions in this article. Thanks so much for reading this DealDash article on making April vacation fun for your whole family.
Have fun this April vacation by starting a new hobby with your family. Need any hobby supplies to get you started? Visit now to see how much you can save on tents, sports equipment, and craft supplies. Have a great time and happy bidding everyone!
This sponsored DealDash blog article was written by Dawn E, a mother of 3 who loves DealDash. Dawn was compensated for writing this article. Check out Dawn and her cats on Instagram! This blog is written by real DealDash customers. The opinions and advice shared here represent our customers' views and not those of the company.