DealDash Drives: Snowy Roads are Dangerous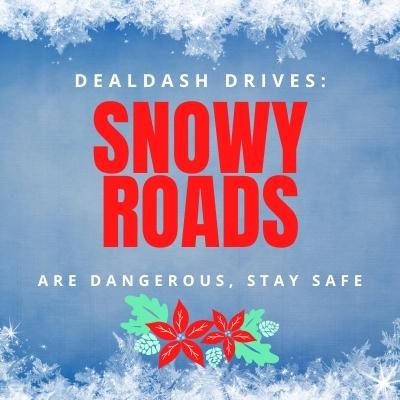 Driving in snowy weather can be very dangerous. It's important that you drive carefully to stay safe.
With snowy winter weather quickly approaching, it is important to take steps now to stay safe. The majority of people will be driving on snowy roads at some point this season, so here are some tips that can help you stay safe while out on the road. DealDash is here to help with a few common-sense tips and suggestions for driving in wintery weather. Read on for some helpful knowledge that you need to know.
Maintain Your Car for Snowy Roads
Just to begin with, you need to make sure that you are properly maintaining your car. Part of making sure your car is well maintained is being sure there is enough tread on its tires. You need to do this before hitting the snowy roads! Another way that you need to maintain your car for winter is to make sure that your battery is in good condition; you
don't want to get stuck somewhere with a dead car, do you? Additionally, make sure that you have windshield wiper fluid and that your washer jets are working. Also, if you're using chains, make sure they are the right size for your tires.
Prepare an Emergency Kit
Next, another important thing you can do to stay safe while driving in winter weather is to be prepared for emergencies. This means having a well-stocked emergency kit in your car. Some things you should have in your emergency kit include a flashlight, extra batteries, jumper cables, flares or reflectors, a first-aid kit, gloves, and food and water. You may also want to consider packing some warm clothes and boots in case you get stranded somewhere.
Another important item to always keep in your car is a blanket, and this is for any time of year, not just the winter! A blanket can serve many functions, from a clean, soft spot to sit, to wrapping up a hurt puppy you find so you can take it to the animal shelter.
Keep a Power Bank in the Car (DealDash Can Help)
Finally, always keep a fully charged power bank with you while traveling in case of emergencies. Depending on what size/type of power bank that you get, it can hold a charge for between 1 to 6 months. This means that you can keep it in the glove compartment or console for months without worrying. However, before you head out in the snowy weather, be sure that you check to make sure that it is full. If you are in the market for a power bank, be sure to check DealDash. Many different types and sizes are up for bid every week.
If you are interested in learning more about how power banks work, check out this Instructables article. You are sure to learn some facts about power banks that you didn't know.
Thanks for Reading
Stay safe out there, everyone! And don't forget to keep your car maintained and stocked with supplies in case of emergency. DealDash is here to help you stay safe while driving this winter season. Remember, when you're in need of a power bank or other winter weather supplies check DealDash first. I hope that this blog post has been helpful to you, and I wish everyone a safe winter driving season ahead. Thanks for reading and happy bidding everyone!