DealDash Plans a Winter Vacation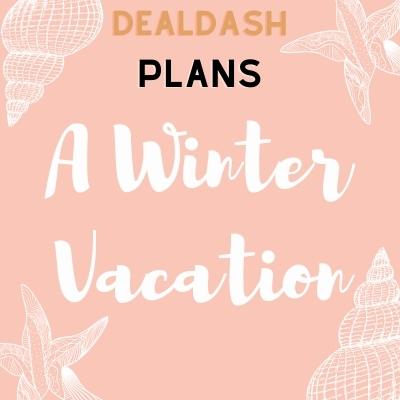 When it's cold and snow is on the ground at home it's nice to go on a warm getaway. Why not make a plan to get away?
Winter is a great time to take a vacation. It's cold outside and you don't want to go any further than your backyard, so it may be the perfect time for a winter getaway! But when you plan your trip in the winter, there are some things that need more planning and packing than others. In this blog post, we will discuss the steps that will help ensure you have everything you need when traveling during the colder months of the year. Read on for helpful suggestions from DealDash.
Planning a Winter Vacation
First things first – I know that not everyone is comfortable traveling right now. However, you can use these suggestions in the future if you prefer to stay home right now. Please always follow the CDC guidelines when it comes to traveling.
With that out of the way, it's time to get planning! Planning a winter vacation can be a bit more complicated than a vacation in the spring or summer. There are some things to consider before you book your flight, hotel, and activities for this trip. So it's time to get out your notebook and start planning. "When and where" are the first things that you will want to decide. Other things to plan:
Transportation to and from the airport in bad weather
Traveling light to avoid checked-in luggage fees
Clothing choices en route as well as on vacation
Getting a pet sitter or babysitter
Set the thermostat to 55-60 when away so the pipes don't freeze
When and Where to go on a Winter Vacation?
One of the first decisions you'll need to make when planning your winter vacation is when to go. Christmas and New Year's are some of the most expensive times, this is why I prefer to travel in February. If you're looking for a less crowded – and potentially cheaper – option, consider February when you are planning your winter vacation.
Where will you go? It's up to you! As someone who lives in Massachusetts where it snows a lot, I prefer to go somewhere warm. Some of my favorite winter vacation destinations have been Bermuda and San Diego, CA. Some other places to consider are Florida, the Bahamas, and maybe even Texas.
Packing for a Winter Vacation (DealDash Has Supplies)
Finally, packing for a winter vacation can be difficult. This is especially if you live somewhere that you wear full winter gear when you go out and you are traveling somewhere tropical. My suggestion for you is to wear thin but warm clothing on the day that you leave – workout pants, a thermal shirt with a long sleeve on top, and a packable down jacket. When you get to your destination you can change into your warm-weather clothes and re-use the warm layers for your trip back home. Common Sense Home has an informative article on layering clothing for warmth you should check out.
Additionally, don't forget the basic summer supplies that you might have boxed up for the season such as your sunblock (SPF 30 and up, please), sunglasses, and sandals. Of course, you can buy these supplies when you arrive for your winter vacation, but they will be much more expensive at a tourist destination.
If you are missing some of the basic vacation supplies, DealDash can help! Beach totes, sun hats, beach dresses, and sunglasses are up for auction and waiting for your bid. Be sure to check them out before you leave on a winter vacation.
Thanks for Reading!
Thanks so much for reading the newest article. I hope that this blog post has given you some ideas on how to plan and pack for your winter vacation. If you have any questions, please feel free to leave them in the comments below and I will do my best to answer them.
DealDash has all of the supplies that you might need for your winter vacation. Summer and beach items are all up for auction and ready to win so check them out before you leave on a trip – don't forget your sandals and sunglasses! Have a great day everyone, and happy bidding!
This sponsored DealDash blog article was written by Dawn E, a mother of 3 who loves DealDash. Dawn was compensated for writing this article. Check out Dawn and her cats on Instagram! This blog is written by real DealDash customers. The opinions and advice shared here represent our customers' views and not those of the company.