DealDash Family: Spend Time Together in January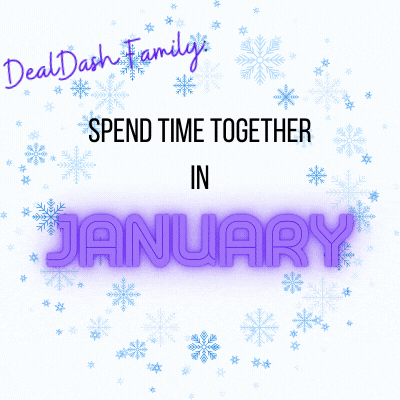 The new year has barely started, have you and your family developed cabin fever yet? Let DealDash help you think of ways to get outside with the fam!
January is a time when many people feel the winter blues. It's cold, dark and there may even be snow on the ground. This can lead to cabin fever or feeling isolated with your family in the house all day long. The best way to combat this is by getting outside and having fun together as a family! DealDash has compiled this list of 10 fun family activities that you can do in January. Read on for some excellent ideas to implement into your schedule.
Spend Time Together in the Snow
First of all, this only applies to snowy states, of course. However, even if you live in a sunnier climate, keep them in mind in case you take a trip to a snow-covered state. As grown-ups, we mostly think of snow as an annoyance to
shovel or scrape. But try to think back to when you were a small kid and lived for snow days to go out and play.
Go ice skating
Make a snowman and snow angels
Get outside and go skiing, snow tubing, or snowboarding
Spend Time With Cute Animals
Next up, why not spend some time with cute animals? Spending time with cuddly critters isn't just a summer thing! These little friends like attention year-round, so why not take the fam out and try these activities.
Animal farm and/or petting zoo
Go to the zoo and see all of the animals – you might even get an off-season discount
The aquarium is heated and open year-round
Spend Time at Home and Still Have Fun (DealDash Can Help)
Finally, sometimes the weather is just too nasty out to enjoy yourself. When there is a storm on the horizon, spending time at home with the family is a good decision. It doesn't have to be boring – especially if you shop for fun and games on DealDash.
Have an indoor picnic with your family – even the pets can join you!
Watch movies as a family – make some popcorn, get cozy on the couch
Make cookies together – Experiment with some crazy flavors, why not?!
Board games like Monopoly or Scrabble are fun, but try some new favorites, too
If you need games for your family, you need not look any further than DealDash! You will find classic games like RISK, as well as new games like Small World and Villainous. Try any of these games for some exciting family time this January. If you're stuck figuring out which board game to try, check out this article from Women's Health Mag – it has the Top 40 Board Game Suggestions for 2022.
Thanks for Reading!
Thanks so much for reading this new DealDash blog about spending time doing family activities in January. We hope you and your family will enjoy these activities. We also hope that we can help make this January the best one yet!
By the way, if you liked this blog post, please consider sharing it on Facebook or retweeting it to your followers! If you want more deals and tips for family fun activities in January, be sure to check back often. We publish new articles twice per week.
Don't forget, DealDash has tons of board games and video games up for bid. Check the site for games like Trivial Pursuit, Catan, and Exploding Kittens – don't worry, no real kittens are harmed! Have a great day and happy bidding, everyone.