Spring Organizing with DealDash – Bathroom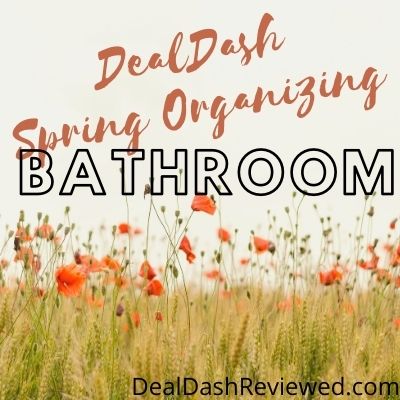 Forget spring cleaning, let's do some spring organizing with DealDash. You will find that spring organizing is more fun and less labor-intensive than spring cleaning, yet will make your home look great. Read on for some suggestions on how to organize your bathroom, from DealDash.
Spring organizing can make your home look fresh and new. It's a time to throw out or donate some unneeded items and free up some space in your home. The bathroom is of the rooms that get used multiple times a day, so it's important that it looks nice. Read on for some excellent spring organizing suggestions courtesy of DealDash.
Skincare and Makeup Spring Organizing
Let's begin with something that almost everyone has an overabundance of – skincare supplies! There's a good chance that you have many skincare items in the bathroom that you don't need anymore. Maybe it has expired, maybe it had a terrible smell or consistency and you're just not going to use it. Regardless, free up extra space and throw your unused skincare away. Be sure to check the dates and get rid of anything that is close to its expiration date. Here are a few suggestions of skincare you might want to organize and throw away:
Face lotions and SPF
Makeup – mascara, eyeshadow, lipstick
Hand and body lotions
Facewash and makeup remover
Skin treatments – serums, sheet masks, primers
Organize the DealDash Linen Closet
Also, browse through your linens. Towels get thinner and less absorbent over time. Sheets also get thinner, but in many cases, they get more comfortable. For sheets, just make sure that you have all of the pieces to the set, the elastic is still stretchy for the flat sheet, and that they are not threadbare in any places. If you find any towels or sheets that are ready for retirement, repurpose them, donate them, or throw them away. The Apartment Therapy site has a great article on ways to repurpose your old linens. You'll find an article with 10 smart ways to repurpose your linens, check it out!
After you have organized your bathroom, you will find you have extra space. There are tons of decorative and functional items that you can get on DealDash to spruce up your bathroom. Additionally, be sure to replace the linens that you disposed of earlier. Search for candles, decorative clocks and shelves, and other bathroom decor on DealDash.
Thanks for Reading
These bathroom spring organizing suggestions will brighten up your space. Thanks so much for reading this article on organizing the bathroom, I hope you found it helpful.
Do you need bathroom decorations and storage? Check DealDash for towels, sheets, and decor. You will find the bathroom items that you need. Visit now to see how much you can save. Have a great time and happy bidding everyone!